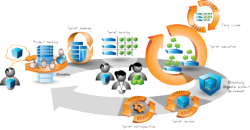 It is exciting to see so many companies around the world license the Visual AGILExicon!
Niwot, Colorado (PRWEB) January 31, 2013
Kenneth S. Rubin, Managing Principal of Innolution, LLC, reports that over 50 individuals and corporations have licensed the Visual AGILExicon™ (pronounced "visual agile lexicon"), a language for describing and communicating core agile and Scrum concepts in a graphically rich and visually appealing manner.
The Visual AGILExicon is a set of approximately 40 vibrant, four-color icons for composing powerful, three dimensional graphical representations of foundational agile and Scrum concepts including roles (such as ScrumMaster and development team), artifacts (such as product backlog and potentially shippable product increment), and activities (such as sprint planning and sprint review). These core icons are also used to compose approximately 70 pictures that represent more sophisticated concepts such as the complete Scrum framework, portfolio planning, and product backlog grooming activities.
Remarked Rubin, "I am very pleased that people around the world are interested in using the Visual AGILExicon in their own presentations. As more organizations adopt its use, I expect the Visual AGILExicon to become the de facto standard for visually communicating agile and Scrum concepts."
Licenses to use the Visual AGILExicon are being offered at no cost. A license permits the licensee to include the Visual AGILExicon in presentations delivered for both commercial and non-commercial purposes. For example, a licensee can use the Visual AGILExicon in a presentation internal to one's own company, at a conference or user group meeting, and at a for-profit public or private training course. A licensee may also reproduce and deliver printed or electronic handouts of the presentations that include the Visual AGILExicon.
Details surrounding the Visual AGILExicon as well as the electronic version of the license agreement and the graphical icons and composed pictures can all be found at the Innolution.com website.
About Innolution, LLC and Kenneth S. Rubin
Kenneth S. Rubin is Managing Principal at Innolution, LLC, an agile training and coaching company that helps organizations develop products in an effective and economically sensible way. A Certified Scrum Trainer, Rubin has trained over 19,000 people on agile and Scrum, Smalltalk development, managing object-oriented projects, and transition management. He has coached over 200 companies, ranging from start-ups to Fortune 10.
Rubin was the first managing director of the worldwide Scrum Alliance, a nonprofit organization focused on the successful adoption of Scrum. In addition to authoring the best-selling book Essential Scrum: A Practical Guide to the Most Popular Agile Process, he is also the coauthor of the 1995 book Succeeding with Objects: Decision Frameworks for Project Management. Learn about his background at: http://www.innolution.com and follow him on his blog at the same site. Follow him on Twitter using @krubinagile.