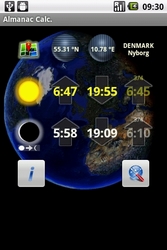 The GPS feature is especially helpful for people traveling, as well as those camping
Nyborg, Denmark (PRWEB) April 21, 2011
A new app for Android devices aimed at outdoor enthusiasts has been released by Denmark-based software company Innosoft. The Almanac App allows users to calculate the exact time of sunrise and sunset on any date among 2,800 cities in 230 countries around the world.
The app also highlights moonrise and moonset times, as well as lunar phases.
"The Almanac App for Android mobile phones will prove to be a handy tool to anyone who enjoys outdoor activities such as sailing, hunting, fishing, camping, golf, and many others," states Michael Sørensen, Manager at Innosoft. "The app is a simple, effective, easy-to-use tool for determining precisely when the sun rises when planning your next early morning hunting trip, or what evening fishing would best be planned when trying to avoid a full moon."
Additionally, the app offers a GPS feature that enables the user to retrieve sunrise/sunset times based on local GPS position. "This feature is especially helpful for people traveling, as well as those camping," states Sørensen.
The Almanac App adjusts to display data in local time for the selected location, and takes into account local daylight saving time rules.
The full version of the Almanac App is available for less than $2.00. A free trial version is also offered. The trial version offers full functionality the first few times you use it, however, when the trial expires the functionality is limited, and moonrise/moonset, date selection, and city selection is switched off.
To download the new Almanac App, use the search phase "Innosoft" in Android Market.
About Innosoft
Innosoft is a software company based out of Denmark, specialized in software development. To view other apps they have developed, please visit http://www.innosoft.dk/Apps_EN.html.
Innosoft
Lindholm Havnevej 29
DK-5800 Nyborg
Denmark
Phone: +45 30 31 30 04
E-mail: ms(at)innosoft(dot)dk
Website: http://www.innosoft.dk
# # #