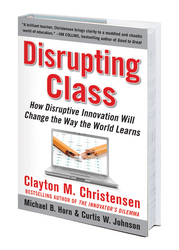 Traditionally, people have seen charter schools as competitors to district schools.
New York, NY (PRWEB) June 30, 2008 -
America's education system was once the hope of future generations, but sadly, a lack of innovation in the sector has undermined its effectiveness. Study after study shows our nation's young learners struggling to keep up with their peers abroad, and as gains in the classroom slow to a crawl, the nation's very future is threatened. America's competitive edge rests in the hands of today's students, but our longstanding educational model is no longer capable of teaching those students the skills necessary to maintain and nurture America's international leadership position.
This dire outlook on the state of education in America sets the stage for the groundbreaking new book: "Disrupting Class: How Disruptive Innovation Will Change the Way the World Learns" (McGraw-Hill, June 2008). Coauthored by Harvard Business School Professor and bestselling business writer Clayton M. Christensen, public policy expert Curtis Johnson and education researcher Michael Horn, the book examines the nation's problematic educational system and unveils an innovative educational model that zeroes in on the nation's major educational failures and points the way to improvement.
"Every year, America pours more and more money into its schools, but it fails to result in improved student performance," said Christensen, a leading business strategist and Harvard Business School professor. "A variety of forces are conspiring to constrain education in the U.S., and the dominant education research paradigm doesn't help, as it consistently fails to show the way forward."
Recognizing the need for a system-wide upheaval, the co-authors approach education reform from a business and innovation viewpoint, as they explain how a revolutionary change is needed to "disrupt" the flawed educational system and set American students on the path to achievement. They frame their ideas in Christensen's groundbreaking theory of disruptive innovation, originally outlined in his blockbuster seller "The Innovator's Dilemma." The theory explains how entire industries are overturned and revolutionized by the introduction of a single, new technology that delivers simplicity, convenience, accessibility, and affordability.
Disruptive Innovation in Education
The co-authors predict that the disruptive innovation that will revolutionize the education system is student-centric technology that offers customized learning.
"The traditional architecture of the school system promotes standardization, but a 'one size fits all' model is far from the ideal learning environment," Johnson said. "Students need to be intrinsically motivated to get the optimal value out of their time in class, so instruction should appeal to each student's individual interests and learning styles."
In "Disrupting Class," the co-authors draw on extensive research of schools and educational programs nationwide to highlight certain technologies that support this individualized approach to education. They herald one such innovation, computer-based learning, as the primary mechanism to push toward customized learning.
Structural Changes
The co-authors also recognize the need for architectural-level reforms to successfully implement computer-based learning initiatives and establish a customized educational model in the nation's public schools. They point to non-traditional learning institutions, such as charter schools, as the answer, but with a different spin.
"Traditionally, people have seen charter schools as competitors to district schools." Horn said. "In reality, we should see charter schools as an opportunity to do something district schools have been unable to do - redefine schooling. 'Disrupting Class' identifies charter schools as a potential educational model to aid districts in meeting the needs of different students who come from a myriad of circumstances."
About the Authors
Clayton Christensen is a Harvard Business School professor and the author of five books, including the acclaimed bestseller "The Innovator's Dilemma." Michael Horn, along with Christensen, is the cofounder of Innosight Institute, a non-profit think tank devoted to applying the theories of disruptive innovation to problems in the social sector. Curtis Johnson is an author, facilitator, consultant and speaker and an expert on public policy.
"Disrupting Class: How Disruptive Innovation Will Change the Way the World Learns" by Clayton M. Christensen, Curtis W. Johnson, and Michael B. Horn; McGraw-Hill; June 2008; Hardcover: $32.95; 288 pages; ISBN-10: 0-07-159206-7; ISBN-13: 978-0-07-159206-2.
###