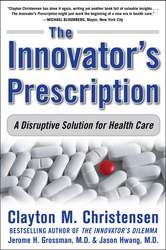 these technological innovations have not translated into lower-cost, higher-quality, or more accessible services
New York (PRWEB) January 8, 2009
If quality, affordable health care is the issue and America is the battleground, then citizens, employers, medical professionals, pharmaceutical companies, insurers, special interest groups, and policymakers are the opposing forces deep in the trenches, expending endless energy and resources to bring reform, but barely gaining an inch.
This is how Clayton Christensen, Jason Hwang, and the late Jerome Grossman describe the chaotic state of America's health care system in their new book, "The Innovator's Prescription: A Disruptive Solution for Health Care"(McGraw-Hill, January 2009).
"Everyone recognizes the problem, but no 'general' has been able to unite the firepower of the special interests and offer a cohesive plan to reform the system," says Christensen, the world's leading authority on innovation, a professor at Harvard Business School, and a co-founder of Innosight, a management consultancy, Rose Park Advisors, an investment firm, and Innosight Institute, a non-profit think tank.
In "The Innovator's Prescription," the co-authors frame the challenges facing the health care system - skyrocketing medical expenses, rising health insurance premiums, and an alarming lack of access to quality care - within Christensen's groundbreaking theory of disruptive innovation. Originally described in his blockbuster book, "The Innovator's Dilemma," disruptive innovation explains how entire industries can be overturned and revolutionized by the introduction of a simplifying technology that performs what dominant, incumbent businesses could only do at a much higher cost. "The Innovator's Prescription" explains how disruptive innovation in the health care system can similarly reduce costs while simultaneously improving the quality, safety, and convenience of care.
DISRUPTIVE INNOVATION IN HEALTH CARE
The co-authors state that the disruptive innovation that will help transform the nation's health care system is already underway in the form of precision medicine. Advances in health care have led to targeted therapies that precisely treat specific conditions. These breakthrough technologies will begin to transform what was once complex medical care into a matter of routine - and simplified care equates to less expensive care.
So far, however, "these technological innovations have not translated into lower-cost, higher-quality, or more accessible services," says Christensen. "The delivery of care has been frozen in business models that are inappropriate for precision medicine and keep costs unnecessarily high. That's because technological improvements must still be paired with innovative business models."
STRUCTURAL CHANGES
"The Innovator's Prescription" identifies how the traditional business models of health care providers - general hospitals and physician practices - must adapt to the era of precision medicine and allow the current system to be disrupted by more coherent and focused models of health care delivery:

Solution shops, which diagnose and solve unstructured problems, should be used to address complex conditions. The work is generally expensive, because it requires highly-trained professionals working in a trial-and-error fashion. Historically, this has been the purview of most businesses in health care delivery.
Value-adding process (VAP) businesses, which transform inputs of resources into outputs of higher value, should be completely separated from solution shops. Focused VAP businesses can dramatically lower overhead costs by relying on process excellence rather than trained experts. Outcomes are easier to measure and much more consistent in quality.
Facilitated networks, which coordinate interactions among buyers and sellers, should be used to care for people with chronic illnesses. Disease management organizations and Web-based social networking applications are examples of this business model.
A NEW VALUE NETWORK
Finally, the co-authors of "The Innovator's Prescription" acknowledge the obstacles that stand in the way of systemic health care reform - namely, the institutions in the present commercial system that benefit from preserving the status quo. The co-authors describe a number of economic reforms that would allow the disruptive solutions to succeed:

Overhaul the reimbursement system, which holds little relation to cost, value, or outcomes, and which strangles innovations early and often.
Replace traditional comprehensive health plans with "true" catastrophic insurance and health savings accounts.
Integrate splintered organizations into cooperative models that encompass wellness and preventive care, sick care, and rational payment mechanisms.
ABOUT THE AUTHORS
Clayton Christensen is a professor of business administration at Harvard Business School and the bestselling author of five books. Dr. Jason Hwang is Senior Strategist for the Healthcare Practice at Innosight Institute. The late Dr. Jerome Grossman was a nationally recognized health care policy expert and former hospital CEO. For more information, visit The Innovator's Prescription Web site.
THE INNOVATOR'S PRESCRIPTION: A Disruptive Solution for Health Care by Clayton M. Christensen, Jerome H. Grossman, M.D., and Jason Hwang, M.D.; McGraw-Hill; January 2009; Hardcover: $32.95; 480 pages; ISBN-10: 0-07-159208-3; ISBN-13: 978-0-07-159208-6.
###