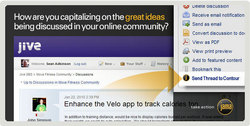 The joint solution of Jive + Jama makes the concept of open innovation a reality and automates the data flow within the process, said Eric Winquist, CEO of Jama Software
Portland, OR (PRWEB) February 17, 2010
Jama Software, the leading provider of Web-based requirements management software used for managing product innovation, today announces the availability of the Jama Connector for Jive SBS. http://www.jamasoftware.com/jive
Welcome to an integrated platform for social product development.
Jama Contour and Jive SBS are complimentary solutions used together to manage the innovation process more effectively, creating a powerful, integrated platform for social product development.
With this unique integration, organizations using Jive SBS for their public and employee communities can now seamlessly push ideas discussed in their communities directly into Jama Contour. Then, they can use Contour to execute on the ideas and manage them through the full product planning and development lifecycle.
"This integration with Jama provides Jive SBS customers more options to capitalize on the ideas being discussed within their Jive communities," said Ben Kiker, CMO of Jive Software, "By bringing ideation and execution together, companies can ensure the end products they build satisfy the needs of their customers."
Automate the process. Never lose a great idea again.
Product teams can waste hundreds of hours trying to gather ideas and communicate product plans manually using static documents and email. It's a nightmare. As more organizations implement social strategies that encourage their customers, partners and employees to participate in the product development process, this "death by documents" problem only magnifies. With the integration of Jive and Jama, organizations can now automate the innovation process and ensure they never lose great ideas. In addition, using Contour, they can capitalize immediately on the specific product features and enhancements their customers want most, ensuring the end products they build deliver real value to their customers. An idea is worth $0 until you take action. This integrated solution provides a better way to convert great ideas into great products.
Taking open innovation from concept to reality.
"The concept of giving customers a greater voice in the innovation process has been a desirable strategy for years," said Eric Winquist, co-founder and CEO of Jama Software, "However, historically it was a very manual and document-centric process to implement successfully. The joint solution of Jive + Jama makes the concept of open innovation a reality and automates the data flow within the process, providing greater visibility, control and collaboration for global organizations."
Key benefits of the integrated solution of Jama Contour and Jive SBS:

Capture the voice of customers
Never lose a great idea again
Automate the innovation process
Turn ideas into action
Deliver the right products faster
Build customer loyalty
Learn more: http://www.jamasoftware.com/jive
Availability
The Jama Connector for Jive SBS is available immediately as an integration add-on to Jama Contour. It is sold as a separate enterprise license with unlimited users and projects, and includes support and maintenance. The Connector requires Jive SBS 4.0 or higher and is compatible with the latest version of Contour 2.9 and higher. A free, full functioning trial of Contour 2.9 along with the Jama Connector for Jive SBS is available upon request: http://www.jamasoftware.com/contour/trial-jive.php
About Jama Software
At Jama, our mission is to help companies build great products. We're collaborating with innovative companies across industries, from agile startups to the world's largest organizations to design new ways to smash information silos, speed innovation and build high quality products. Jama Contour, the leading Web-based solution for social product development and requirements management, is now trusted by thousands of users worldwide managing billions in R&D projects. For more information, videos, customer stories and free trials, visit http://www.jamasoftware.com
About Jive Software
Jive frees people to engage in open, natural business conversations and workflows that typically are trapped inside of emails, phone calls or meetings. As the leading enterprise-class suite of SBS applications for Global 2000 companies and governments, Jive combines social networking software, collaboration software, and community software into the first solution to effectively manage employees, customers, and partners on a unified platform built for tens of thousands of users and millions of page views.
Media Contacts
John Simpson
Director of Customer Outreach & Marketing
Jama Software
(503) 740-8591
# # #