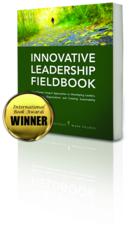 Resilience is the ability to adapt to multiple changes while continuing to persevere toward meeting stratetgic goals.
Columbus, Ohio (PRWEB) April 23, 2013
Resilience is one of the five leadership components of Innovative Leadership as described in the Innovative Leadership Fieldbook, winner of the 2012 International Book Award for Best Business Reference Book.
In leadership terms, we define Resilience as the ability to adapt in the face of multiple changes while continuing to persevere toward meeting strategic goals. In our very dynamic work environment, leaders, their employees and their organizations must be resilient to accommodate swift and continual change. The resilience presentation is available on demand.
Resilience is a hot topic these days as people try to figure out how to bend with the winds of economic change without breaking. The challenge is how to develop resilience or rebuild it when it gets low. This webinar provides some suggestions and basic practices of how to begin on the path of building resilience and to cultivate the ability to deal with today's frantic pace of change and stress.
The Columbus Chamber provides connections, resources and solutions to help area businesses thrive. Leveraging a customized, consultative approach to support members that range from small businesses to Fortune 500 enterprises, the Chamber assists in the growth of the Columbus Region economy one business at a time.
Founded nearly 130 years ago, the Columbus Area Chamber of Commerce has evolved to become the largest business services organization and primary advocate for the Columbus Region business community.
Metcalf & Associates differentiates itself in its approach and published materials by using pioneering theoretical work in the field of leadership development, integral theory and organizational transformation. Its role is to convert this leading edge research into tools and processes that are practical to implement in mainstream organizations.
Metcalf & Associates, Inc., is a leadership development and management consulting firm that uses an integrative approach to help leaders and their organizations innovate how they lead and how they operate, helping them to thrive in a rapidly changing environment. CEO Maureen Metcalf is an acclaimed thought leader who has developed, tested and implemented emerging models that dramatically improve leaders and contribute toward organizational success. For information about all the workbooks in the series and to find out more about Metcalf & Associates, Inc., go to http://www.metcalf-associates.com.