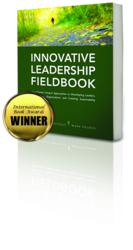 The Innovative Leadership Fieldbook is the perfect blend of information and personal exploration.
Columbus, Ohio (PRWEB) May 09, 2013
Metcalf & Associates, Inc., is sponsoring the third biennial Integral Theory conference, the world's premier academic conference devoted to the field of Integral Theory and its application in both academic and professional contexts. The three-day conference from July 18 through July 21 will be held in San Francisco.
With more than 100 presenters, the theme of the conference is "Connecting the Integral Kosmopolitan." Dictionaries define a cosmopolitan person as one who holds a view that is "worldwide rather than limited or provincial in scope or bearing." The Integral Kosmopolitan has this expansive understanding of the integral field—one that sees "integral" as a broad and diverse tradition comprising multiple authors, lineages, and influences. The goal of ITC 2013 is to bring together Integral Kosmopolitans to connect and engage with one another, so that they may continue to promote integral as a burgeoning academic discipline. The conference will offer students of Integral Theory, graduate students, and practitioners access to the world's leaders in the field.
Maureen Metcalf, founder of Metcalf & Associates and co-author of the Innovative Leadership Fieldbook, winner of the 2012 International Book Award for Best Business Reference Book along with four other books focused on Innovative Leadership, will be participating in a panel discussion. Today's dynamic world necessitates that leaders across all sectors invest in ongoing leadership development and innovate how they lead, and Metcalf's books are based on Integral Theory.
Metcalf & Associates, Inc., is a leadership development and management consulting firm that uses an integrative approach to help leaders and their organizations innovate how they lead and how they operate, helping them to thrive in a rapidly changing environment. CEO Maureen Metcalf is an acclaimed thought leader who has developed, tested, and implemented emerging models that dramatically improve leaders and contribute toward organizational success. Go to http://www.innovativeleadershipfieldbook.com to find out more about Metcalf & Associates and for information about all the workbooks in the series.