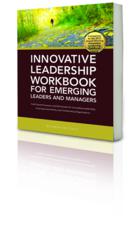 In today's dynamic world, it is critical for organizations to create a leadership development pipeline that will enhance their ability to create distance and differentiation from the competition
Columbus, OH (PRWEB) November 13, 2012
ELCircle is the development hub for emerging leaders. The development of Emerging Leaders throughout the entire organization is critical for success. ELCircle is an easy to deploy web-based, video-based supplement to existing leadership curriculum. Content is executive tested and brought to you by some of the best leadership minds available.
"Leadership needs innovation the way innovation demands leadership. By combining them, you improve your capacity to deliver results and your organization's capacity to affect change," says Metcalf. The Innovative Leadership Workbook for Emerging Leaders ELCircle series is designed specifically for busy people. This video series provides a six-step process for developing innovative leadership qualities through a combination of well-researched theory and corresponding tools and templates including field-tested processes, worksheets, and reflection questions.
This platform will also include an online coaching option beginning in early 2013 for participants who would like additional support in developing their leadership capacity. The coach will review the worksheets participants complete and provide feedback along with answering questions.
"In today's dynamic world, it is critical for organizations to create a leadership development pipeline that will enhance their ability to create distance and differentiation from the competition. Leaders need solid skills to be prepared to meet the growing complexity of problems they are facing on a daily basis. This workbook affords organizations the opportunity to develop leaders using a self-paced approach that can augment internal or external development programs." Michael Linton, CEO, Adecco, Retired; CEO Staffing Leadership
Metcalf & Associates, Inc. uses a integrative approach to help leaders and their organizations innovate how they lead and how they operate, helping them to thrive in a rapidly changing environment. CEO Maureen Metcalf is a an acclaimed thought leader who has developed, tested, and implemented emerging models that dramatically improve leader and organization success during times of transition and change. http://www.innovativeleadershipfieldbook.com