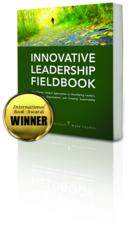 Government's stagnant revenues will separate innovative leaders from those waiting for recovery
Columbus, OH (PRWEB) September 13, 2012
Today's dynamic world requires leaders across all sectors to invest in ongoing leadership development. It requires leaders innovate how they lead at the same rate they innovate what they do.
Megan and Maureen will lead a session on Innovative Leadership for the Public Sector. Join this interactive session to learn how leaders can update their leadership skills by exploring the five elements of innovative leadership as described in the recently published Innovative Leadership Fieldbook. Written by Maureen Metcalf and Mark Palmer, this Fieldbook was named Best Business Reference Book in the 2012 International Book Awards
The 2012 Leadership Forum will provide meaningful professional development, career inspiration and networking opportunities. Breakout sessions will focus on two themes: Leading Organizational Change and Entrepreneurial Management.
The session expounds on the presenter's article "Innovative Leadership Is Critical To Public Sector Success" in the Glenn School Public Address published Spring 2012.
Much thought has been given as to how the role, image and necessity of government have changed as a result of the political and economic events of the last few years. State and local governments face continued austerity as fiscal conditions remain strained following these governments' reliance upon one-time funding measures and support from the federal government to maintain services. Worse yet, we must tackle these problems with reduced workforces: Standard & Poor's reports that state and local governments cut 579,000 jobs, seasonally adjusted, from June 2008 to November 2011.
What this reflection has led to is the realization that, now more than ever, we need to attract leaders who enhance professional competency and also move beyond professional competency to include what the Innovative Leadership Fieldbook defines as "internal capacity."
Metcalf & Associates uses an integrative approach to help leaders and their organizations innovate how they lead and how they operate, enabling them to thrive in a rapidly changing environment. CEO Maureen Metcalf is a an acclaimed thought leader who has developed, tested and implemented emerging models that dramatically improve leaders and organizations success in these rapidly changing times.