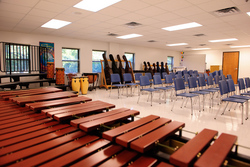 Bolingbrook, IL (PRWEB) March 26, 2011
Innovative Modular Solutions(IMS), headquartered in Bolingbrook, Illinois, received an Honorable Mention award at the annual Modular Building Institute (MBI) World of Modular convention. Held this year, in Las Vegas, Nevada.
The IMS building honored is a 9,800 sq.ft temporary modular building designed for the Anoka Middle School for the Arts, Washington Campus located in Anoka, Minnesota. Area residents had voiced concerns to the school district that a "typical" modular building would decrease property values. The project architect, ATS&R developed the design, implemented by IMS that included site-installed brick and horizontal lap siding to match the existing school and blend with the surrounding properties. The district had a very aggressive, two and half month timeline for full project completion. IMS, the architect, school board, and modular manufacturer worked productively together to bring the project to completion on time. The modular building includes classrooms for Art, Science, Social Studies, Music, Theater and Band along with mechanical and technology rooms and restrooms. Rooftop HVAC units were added to the modular building to improve the overall appearance and increase energy efficiency; along with this all of the classrooms were outfitted with CO2 sensors and programmable thermostats. These additional features ensure quiet, comfortable, consistent airflow and optimal air quality, while allowing the district to control energy costs when the building is not in use.
Each year the Awards of Distinction are given to recognize the best modular building construction projects completed by MBI members. An impartial panel of industry and non-industry construction and code experts, architects and engineers, and marketing professionals reviews each entry. Building entries are judged on architectural excellence, technical innovation, cost effectiveness, energy efficiency, and calendar days to complete.
About Modular Buildings
Modular buildings utilize the resource efficient process of factory-built construction, where the initial construction occurs in a controlled manufacturing environment. Partially finished modules are transported to the project site for completion. Modular buildings can be used for both temporary and permanent applications and are appropriate for a wide variety of uses, including schools, medical facilities and commercial offices. The advantages include the speed of construction, product flexibility, financing options, and overall cost. Additionally, the modular construction process is inherently green as it offers waste minimization, material efficiency and minimal site disruption.
About the Modular Building Institute
The Modular Building Institute is the non-profit trade association representing companies around the world involved in the manufacturing and distribution of commercial factory-built structures. MBI provides services and promotes professionalism through communication, education, and recognition. Dedicated to enhancing the future growth of the industry, MBI encourages innovation and quality among its members.
About Innovative Modular Solutions
Established in 1999, Innovative Modular Solutions is dedicated to building high quality learning and working environments. IMS' focus on providing their customers with consistent and professional service, has led us to become a leading provider of modular buildings for temporary or permanent use. Since 1999, IMS has provided time conscious and cost saving building solutions maintaining a high standard of quality. With a long list of satisfied customers, IMS can serve any modular building need. For more information, please visit innovativemodular.com.
Innovative Modular Solutions
297 E. South Frontage Rd. Unit B
Bolingbrook, IL 60440
1-800-357-4699
info(at)innovativemodular(dot)com
# # #