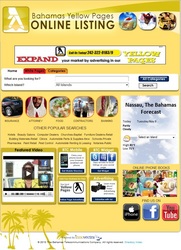 "BTC has a tremendous opportunity to strengthen its web presence by leveraging its traditional media to build new local search applications"
Leesburg, VA (PRWEB) November 10, 2010
The Bahamas Telecommunications Company Limited (BTC) announced the Company's launch of a new Bahamas Internet Yellow Pages directory with Innovectra, a leading provider of digital media platform solutions for traditional media publishers. Innovectra Corporation has been selected to host each new edition of the BTC Yellow Pages in a digital directory format using its award winning ActivDirectory and ActivImpact software.
The companies have collaborated to build and deploy a new directory portal at http://www.BahamasYPages.com for area residents, island visitors and vacationers who use the Internet to search directory listings and find profile information about local merchants and service providers. Online shoppers can use the BTC Yellow Pages keyword search engine to find exactly what they are looking for throughout the Bahamas and connect with small businesses via links to Internet directory listings, web sites, maps, directions, online videos and dynamic coupons.
"We are excited about adding new local search site features for consumers while providing business customers with more interactive Yellow Pages solutions," said Marlon Johnson, BTC's vice-president of sales and marketing.
"BTC has a tremendous opportunity to strengthen its web presence by leveraging its traditional media to build new local search applications," said Thomas C. Lewis, president and CEO at Innovectra. "Their strategy to provide consumers with multi-platform access to Yellow Pages content via http://www.BahamasYPages.com and major search engines is a good example of how publishers are using technology to establish and grow and a successful online directory business," he said.
The enhanced site is a customer solution hosted on the ActivDirectory and ActivImpact platforms from Innovectra. The software utilizes phone book content to power a "listings based" Internet Yellow Pages search that is available via the web, mobile and social networking applications. In addition, the site features a "look and feel" electronic reproduction of BTC Publications.
About BTC Yellow Pages
BTC Publications is the official directory publisher for The Bahamas Telecommunications Company Limited (BTC), with offices in Nassau, Freeport and the Family Islands. The company publishes the Yellow Pages as a local resource guide, complete with The Island Pages, Government and restaurant sections, coupon pages and more including the white and Yellow Pages. The company is pursuing several new marketing initiatives to support its growth strategies, including the introduction of mobile directories and the re-launch of its Internet directory search site.
About Innovectra
Innovectra provides "world class" web, mobile and social network based local search solutions including web site builder and e-mail marketing tools for online directory publishers. One of the first companies to create electronic directories, Innovectra currently publishes over 800 Internet Yellow Pages directories. We provide a complete suite of interactive online media products and services that "optimize" and "monetize" local search, including ActivImpact, ActivDirectory and a full suite of advertiser solutions. For more information, visit the Innovectra Corporation web site at http://www.innovectra.com.
###