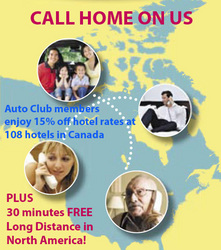 "This exciting offer is open to any and all auto club members. Guests must show their auto club card upon check-in to receive the discount and long distance savings."
Toronto, ON (PRWEB) June 15, 2010
Summer travellers with any auto club membership can save 15% on standard hotel rates between June 14 and September 15 at 108 participating InnVest REIT Hotels across Canada. Auto club members will also enjoy 30 minutes worth of free long distance calls anywhere in North America in addition to their room savings.
"This is a great opportunity for all auto club members to discover and enjoy Canada this summer," says Barry Sheen, senior vice president, operations at InnVest REIT Hotels. "We invite guests to call home on us and relay their exciting travel experiences to their friends and family." Most participating hotels are also offering free continental breakfast, parking, local calls and high-speed Internet.
Guests can choose from over 100 hotels from top brands such as Comfort, Quality and Travelodge and should request the "LHOME" rate at Comfort and Quality and "LKFL" rate at Travelodge when booking. All hotel reservations can be made online through the brand websites or by calling the hotels directly or by visiting any local auto club member office.
"We want to remind Canadians of the many memorable tourism experiences available right in their own backyards," says Sheen. "This exciting offer is open to any and all auto club members. Guests must show their auto club card upon check-in to receive the discount and long distance savings."
Full promotion details and a list of participating hotels are available at innvestreithotels.com
About InnVest REIT Hotels
The InnVest REIT Hotels portfolio includes over 140 hotels in Canada from many respected brand names in the hospitality industry. InnVest has hotels conveniently located in or close to most major cities, airports, conference centres, universities and tourist attractions. In partnership with Westmont Hospitality Group, one of the largest hotel operators and managers, InnVest is the most versatile hotel company in Canada. For more information visit http://www.InnVestREIThotels.com.
# # #