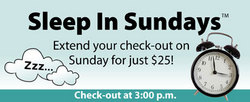 "Sleep In Sundays is perfect for family fun vacations this summer"
Toronto, ON (PRWEB) July 27, 2010
InnVest REIT Hotels is offering weekend travellers a late check-out option on Sunday morning until 3 p.m. with their Sleep In SundaysTM program for an extra $25. Hotel guests can choose from over 100 participating hotels across Canada from popular hospitality brands like Comfort, Quality, Holiday Inn and Holiday Inn Express.
"Sleep In Sundays is perfect for family fun vacations this summer," says Barry Sheen, senior vice president operations at InnVest REIT. "We have a large selection of family friendly hotels across Canada with excellent guest amenities like swimming pools, free parking, pet friendly hotel rooms with drive-up patio door access and at many of our hotels kids eat free."
With hotels located in almost every province and major city in Canada, family travellers can easily explore Canada's top attractions, natural wonders, vibrant cities and outdoor adventures.
Late check-outs are also popular among business travellers waiting to catch their next flight or couples looking to extend their weekend getaways, added Sheen.
This offer can be booked upon check-in at the hotel front desk of your choice. Ask any guest service representatives about Sleep in Sundays™ upon check-in for details. A full list of participating hotels can be found under ´Specials & Packages' on the InnVest REIT Hotels website: http://www.innvestreithotels.com/en/home/specialspackages/roomonlyspecials/sleepinsundays.aspx
About InnVest REIT Hotels
The InnVest REIT Hotels portfolio includes over 140 hotels in Canada from many respected brand names in the hospitality industry. Perfect for family travel, InnVest has hotels conveniently located in or close to most major cities, airports, conference centres, universities and tourist attractions. In partnership with Westmont Hospitality Group, one of the largest hotel operators and managers, InnVest is the most versatile hotel company in Canada. For more information visit http://www.InnVestREIThotels.com.
CONTACT:
For further information: Andrea Crouse, Tel: (905) 629-3400; For individual hotel details, please visit InnVestREIThotels.com or call 1-866-848-BOOK (2665).
# # #