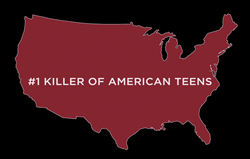 "This program is highly impactful, easy to implement and extremely effective," -- Dr. Pam Magee, Principal of Palisades Charter High School, Pacific Palisades, California
Los Angeles, California (PRWEB) September 22, 2016
Increasing its efforts to fight against the number one killer of American teens - impaired and distracted driving - In One Instant Teen Safe Driving Program is launching its National Teen Driver Safety Week Giveaway.
Ten randomly drawn winners will be granted In One Instant's award-winning "one class hour" School Video Assembly for the high school of their choice, waiving the $495 video licensing fee. The DVD and Coordinator's "Simple Steps for a Smooth Assembly" guide will arrive to each school in early October, enabling them to schedule their assemblies throughout the 2016-17 school year, and as early as during National Teen Driver Safety Week (Oct. 16 – 22).
Entry is open now until October 2nd, to U.S. residents at least 16 years old, by completing and submitting the quick entry form here.
"We're excited that our National Teen Driver Safety Week Giveaway will lead to more schools and communities getting involved in In One Instant," commented program Co-Founder and President Gail Schenbaum Lawton. "In One Instant reaches teens on an emotional level and empowers them to make lifesaving choices behind the wheel and in everyday life."
The video assembly is a powerful stand-alone tool and also serves as the first part of the broader In One Instant program, which is always at no cost, other than the video licensing fee. Its teen peer-driven success can be seen in the video trailer here as well as in the testimonials by students, school administrators and teachers found on the In One Instant website.
"This program is highly impactful, easy to implement and extremely effective," commented Dr. Pam Magee, Principal of Palisades Charter High School. "In One Instant saves lives. I hope this program finds its way to other high schools, knowing that distracted driving is the #1 killer of American teens."
In One Instant is under the auspices of the 501-C-3 non-profit organization Community Partners in Los Angeles, California. In One Instant has earned recognition by U.S. Congressman Ted Lieu, as well as the CA State Senate, CA State Assembly, and L.A. City Council. Supporting organizations include the National Organizations for Youth Safety, USC Center for Trauma, Violence & Injury Prevention, CA Highway Patrol, L.A. Fire Dept., L.A. Police Dept., L.A. County Medical Assoc., UCLA School of Public Health and L.A. County Supervisor Sheila Kuehl.
For more information, please email info(at)inoneinstant.org or visit http://www.inoneinstant.org.