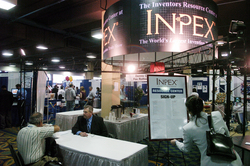 INPEX®, for us, was a great way to meet with inventors and look at their inventions and new products in the health & fitness category.
Pittsburgh, PA (PRWEB) May 1, 2008
Companies interested in open innovation can gain access to thousands of new product ideas available for manufacturing, marketing, distribution, or licensing at InventHelp's INPEX® Show. INPEX® is America's Largest Invention Trade Show and is being held from June 11 -- 14 at the David L. Lawrence Convention Center in Pittsburgh, PA.
INPEX® exhibits include more than 1,000 inventions from the U.S. and delegations of inventors from foreign countries. Additionally, InventHelp® has thousands of other new product ideas from independent inventors that are available for sale or license. Companies are invited into a manufacturer's lounge where they can privately view inventions in portfolios or in an adjoining galleria display. InventHelp® representatives are on hand to explain how companies can view inventions in their innovation Data Bank at no charge. Companies can register at the show or on-line at http://www.intromark.com/contactforms/Reg_Databank_Contact.aspx.
According to Trade Show Director, Nicole Hait, "INPEX® is an open house for open innovation. Organizations big and small are embracing the concept that in today's competitive environment, they cannot afford to rely entirely on their own R & D but must consider buying or licensing inventions from outside."
A number of well-known companies such as Everlast®, Bosch, Irwin® Tools, Tupperware, Hasbro, and Full Life™ Products, LLC, will be meeting with exhibitors/inventors and conducting product searches at INPEX®. Many of these companies are returning to INPEX® for a second or third year, including Everlast®. "INPEX®, for us, was a great way to meet with inventors and look at their inventions and new products in the health & fitness category." said Ron Kohen, representing Everlast®.
Ms. Hait states, "Our INPEX® staff is proud of the fact that the inventors of the Spin Pop got their start at INPEX®. It's a fun story to talk about because the Spin Pop is so well known. The inventors met Cap Toys at our show in 1991 and signed a licensing deal with them a month later. The product has grown into one of the most successful toys still currently in production. (That level of success is not typical of what inventors can expect, but it proves that it's possible.) The Spin Pop is currently marketed by Hasbro."
This year's show will provide timely information for companies in attendance on how to embrace open innovation. Speaking at lunch seminars will be two well-respected leaders in corporate innovation. Cheryl Perkins is President of Innovationedge, formerly Senior VP and Chief Innovation Officer for Kimberly-Clark. On Thursday, June 12, 2008, she will be speaking about Sustainable Innovation: best practices in leadership, culture, process, structure and metrics. On Friday, June 13, 2008, Mike Docherty will be speaking about Open Innovation: tips for companies and entrepreneurs getting started. Docherty is CEO of Venture2, Inc. and formerly VP and General Manager of Sunbeam's Health Products Division. Open innovation seminars are free to companies pre-registering to attend the show. For more information about attending INPEX®, please go to http://www.inpex.com and follow the link at the bottom for "attendee registration form," or contact Lori Posey at lposey@inpex.com
In addition to the larger companies conducting product reviews at INPEX®, the show is also attended by small firms looking for new product opportunities. Stu Berger, President of Integrated Merchandise Group, International, has been attending INPEX® since 2003. "I look forward to attending the show every year," says Berger, "I can walk the show floor in a day and I am always impressed with the number of useful ideas I encounter. I also work with InventHelp®, the show producer, and I have been receiving new product ideas as a member of their Data Bank. INPEX® and InventHelp® services are valuable to me as a source of innovation."
# # #