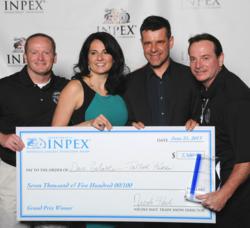 PITTSBURGH, PA (PRWEB) June 26, 2013
InventHelp's INPEX, America's Largest Invention Show, announced award winners at the closing awards ceremony for its 28th annual show, held June 19-21 at the David L. Lawrence Convention Center in downtown Pittsburgh.
Gold medals were presented in 44 categories ranging from Advertising to Toys and Games, as well as merit awards and several special awards. An international jury committee judges all of the inventions each year, and the following individual won the Grand Prix Award and a $7,500 cash prize:

Tailgate Kitchen, invented by Dave Galatte, of Wauconda, Ill. The system includes a travel rack for storing all of the components when traveling to the tailgate party, as well as a storage cart for storing the system when not in use. A series of accessories can be added to the system to address specific game day menus. The Tailgate Kitchen has been designed to address the full life cycle of a tailgate party, from loading the vehicle, tailgate set up, cooking, tear down, and storage. The product makes the entire process faster and easier. The system includes a counter top, coolers and a propane grill. In addition to the unique tailgating system, several convenient accessories are also available. For more information, please visit http://www.championtailgate.com.
In addition to the Tailgate Kitchen, two other cash prizes and runner-up awards were given. An inventor from Taiwan took home first runner-up ($3,000) for his invention, the Shoe Insole and Orthotic Shoe. Michael Curry, of Harrisonburg, Va., took home the second runner-up ($2,000) for his invention, Zip Grip Go, an innovative and alternative tire traction device for cars, vans and light trucks.
Additional information about the inventors and their inventions are available. A complete list of the category award winners is also available. Please contact Chrissa Chverchko for additional information at cchverchko(at)inpex(dot)com or (800) 424-2089, x4118.
INPEX is a unique trade show that showcases new products and innovations that are available to business and industry to manufacture, license or distribute. INPEX is a service of InventHelp, America's largest invention submission company. For more information about INPEX, call 888-54-INPEX or visit our website here.
# # #