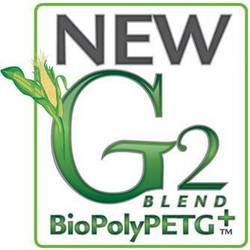 "We like staying out in the lead, and our BioPolyPETG+™ launch is another example of our pioneering spirit," said Phil Ziegler, InPro's president.
Milwaukee, WI (PRWEB) March 8, 2010
InPro Corporation today announced a new line of door and wall protection products made from a blend of biopolymer and reformulated PETG including recycled content, taking another leap forward in its leadership in green innovation. The sustainable products will be sold at the same price level as InPro vinyl products, and marketed under the BioPolyPETG+™ trade name.
InPro is the first company in its industry to successfully bring to market biopolymer and PETG in a blend for door and wall protection products. Phil Ziegler, InPro's president, confirmed that InPro will be ready to take orders for its BioPolyPETG+™ line of products beginning March 16th.
In addition, InPro proudly announced that 100% of the raw materials used in their manufacturing process for the BioPolyPETG+™ product line comes from U.S. based suppliers. No materials are shipped in from overseas, keeping the carbon footprint to a minimum while offering our customers the greenest product possible.
PETG is considered a greener alternative to many plastics used in architectural materials. InPro's blend of biopolymer and PETG does not contain halogens, sulfur, nitrogen, lead, mercury, cadmium or hexavalent chromium. It also is BPA free. InPro uses PETG as a base and blends it with a plant-based biopolymer to give the materials high-impact resistance. The base PETG holds a Silver Cradle to Cradle Certification (CM).
The new BioPolyPETG+ blend has already obtained its NFPA Class 1 fire rating, and GREENGUARD® Indoor Air Quality certification is expected. The blending of biopolymer also means InPro products may contribute to LEED® credit for rapidly renewable material.
"In 2001, InPro was the first company in our industry to go out on the leading edge of sustainable architecture with the EnviroGT™ product line, and also the first in 2007 to use PETG in our manufacturing process," said Ziegler. "We like staying out in the lead, and our BioPolyPETG+™ launch is another example of our pioneering spirit." Product information and samples will be available at the National Facilities Management & Technology Conference and Expo (NFMT), March 16 - 18 at the Baltimore Convention Center.
BACKGROUND
InPro Corporation - Based in Muskego, Wisconsin, InPro is the nation's premier manufacturer of building products, offering the most choices and best service in door and wall protection, decorative surfaces, expansion joint systems, cubicle track & cubicle curtains and signage & wayfinding. InPro products are used in the healthcare, senior living, hospitality, education, government, marine and retail sectors.
InPro Corporation also operates an exclusive Color and Design Center that employs a professional, licensed interior designer who assists customers in coordinating InPro products and custom environments that integrate color, style, function, comfort and life safety.
For more information on InPro Corporation, visit http://www.inprocorp.com, or call 800-222-5556.
# # #