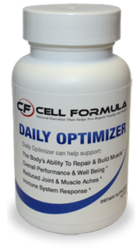 Fans of the Insanity Workout and P90X workout may find reduced joint and muscle pain from aching muscles with the release of True Healthy Products' Cell Formula Daily Optimizer.
(PRWEB) July 17, 2012
Fitness fanatics familiar with extreme workouts such as P90X and the Insanity Workout are accustomed to strenuous stamina training. The Insanity Workout was created to emphasize "max interval training." This specific method of training has the user perform strenuous exercise for 3-4 minutes, followed by 30 seconds or so of 'cool down' exercise, and repeat this process for the duration of the workout. Working muscles to the limit will increase joint and muscle pain making it tough to recover before the next workout.
True Healthy Products recently released an all natural fitness supplement designed to dissolve the lactic acid that muscles secrete after an intense workout that cause muscle soreness, while boosting the body's ability to recover from muscle workouts more quickly.
The company is offering free informational reports that are being launched at http://www.truehealthyproducts.com/cell-formula-reports, that will help fans of the Insanity Workout and P90X workout find new ways to get a better workout and recover from the extreme exercise.
P90X was once one of the hardest fitness programs available for use in the home. The Insanity Workout seems to be pushing those limits further by alternating between intense aerobic and anaerobic intervals. Fitness enthusiasts can now access free reports and obtain this invigorating offer at http://www.truehealthyproducts.com/cell-formula-reports. The reports feature information on how all natural supplements can naturally improve an extreme fitness enthusiasts game.
True Healthy Products is a nutrition company dedicated to offering the best customer service and latest products that range from all natural sports nutrition supplements, healthy dark chocolate, weight loss programs, revolutionary skin care and whole food vitamin supplements.
For more information visit: http://www.truehealthyproducts.com
Contact:
True Healthy Products, LLC
2460 North Courtenay Parkway, Unit Number 210
Merritt Island, FL 32953
888-400-2920