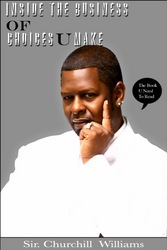 'Inside The Business of Choices U Make' is a literary masterpiece. Sir. Churchill Williams is prolific in giving us the play-by-play accounts of his life but then he flips the script - Bishop Chris Wright, Remnant Covenant of Churches and Ministries.
Houston (PRWEB) May 20, 2010
Author Sir. Churchill Williams' first non-fiction novel, "Inside the Business of Choices U Make", (http://www.insidethebusiness.net) gives the reader true illustrations on the importance of sexual responsibility and describes the consequences when men and women make irresponsible choices before defining their relationship.
The purpose of "Inside the Business of Choices U Make" is to bring awareness to the sexual epidemic that plagues his community and so many others around the country. The epidemic has numerous victims who, in many cases, are the children born into a situation where the mother and father did not plan on becoming a family unit.
For Williams, this is where "the business" begins. "When a baby is unplanned, whether you like it or not, is when the business starts," explains Williams, referring to the business of child support.
He writes how his life was affected after his father left the home when he was five and his brother was three years old, making his mom a single parent living in the ghetto of Houston. The growing pains he personally experienced and saw around him made him determined to act responsibly and write "Inside the Business of Choices U Make".
Williams wants his readers to understand that there is life after bad choices. His advice is simple, "Don't make the same bad choice again. Use the book as a teaching tool and share with others."
Sharing is exactly what Williams has in mind. The book is under review for use at Houston's Ross Shaw Sterling High School's mentor program for boys, Love Our Kids or LOK, for the 2010-2011 school-year. As a former student at Sterling High School, Williams is very excited to have the opportunity to make a difference in the lives of students.
"The boys enrolled in LOK must be taught from an early age that the sexual choices they make now can affect them all the way into adulthood and this book gives it to them straight, no curve balls," says Williams.
Williams makes his first appearance at the 2010 National Black Book Festival, May 22-23, at the Downtown Houston Crowne Plaza and is eager to share his experiences with festival attendees. "Anything that I can do to help someone make better sexual choices is the best reward. It's important to the future of young people, boys, girls, parents – everybody." says Williams.
ABOUT THE AUTHOR
Sir. Churchill Williams resides in Stafford, TX, with his wife and his two young boys. He is the owner of Primetime Barbershop and enjoys relaxing on the golf course and spending time with his family.
"Inside the Business of Choices U Make" is also available in an adult version "Inside the Business of C.U.M. Management". Both versions can be found at http://www.insidethebusiness.net.
Sir. Churchill Williams is available to speak at motivational events and seminars.
Contact:
Sir. Churchill Williams
1-888-871-7509
Website: http://www.insidethebusiness.net
Facebook: Insidethebusiness
Twitter: http://www.twitter.com/choicezumake
# # #