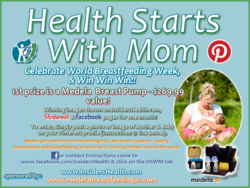 "Without the [human] milk banks in the United States, there would be no supply of pasteurized milk for the most critically-ill infants in our nation…" Kevin West, co-producer of documentary "Donor Milk"
Beverly, MA (PRWEB) August 04, 2012
Cancer, heart disease, diabetes, obesity, allergies, asthma, and other ailments are reaching epidemic proportions in the United States. Fortunately there is a simple, preventive measure that could improve long-term public health. It is natural and free, but it has to start early. It is Breastfeeding.
Recent controversy over "extreme breastfeeding" distracts from the fact that Human Breast Milk is vital for all children. It is not only critical for the survival and wellbeing of premature infants but is in short supply at human milk banks.
"Without the [human] milk banks in the United States, there would be no supply of pasteurized milk for the most critically-ill infants in our nation…"
Kevin West, co-producer of "Donor Milk" a documentary about milk donors and milk banks "Pump it Up: A Look at Breast Milk Donation" InsidersHealth.
In 2011, NICUs (neonatal intensive care units) in the United States were approximately 6 million ounces short of human breast milk critical for feeding premature infants yet there are only 10 human milk banks in the United States. Brazil has over 300.
Human breast milk improves lifelong health outcomes for all babies, fighting disease, supporting healthy brain development, even increasing IQ, while breastfeeding decreases a mother's risk of breast cancer and heart disease. Research results are so impressive, in fact, that the U.S. Centers for Disease Control (CDC) and the World Health Organization (WHO) have campaigns to increase the numbers of women breastfeeding. Both agencies recommend breastfeeding exclusively for 6 months and continuing for two years or more.
"[Yet] …only 33 percent of infants [in the United States] are breastfed by the time they reach four months, and the figure continues to decrease after that. By the time they are six months old, only 14 percent of infants have been breastfed exclusively. Given the research mentioned previously, might this be one of the reasons we are now facing a growing obesity epidemic?"
Sylvia Anderson, "Breastfeeding and Health: Breast Better than Bottle?" InsidersHealth
"Health Starts With Mom" campaign offers articles, images, videos, and interviews on breastfeeding, including the controversy over "extended breastfeeding," the shortage of human breast milk donors, booby-traps or societal and logistical barriers to breastfeeding, human breast milk banks, and other topics, as well as a free, printable Breastfeeding Bill of Rights for moms on the go.
"Health Starts With Mom" contest runs from August 1-13, 2012. Prizes include a Medela Pump in Style Advance Tote breastpump offered by Medela-USA, and InsidersHealth memberships offered by InsidersHealth.
Contest Sponsors are InsidersHealth, a membership-based alternative health information and media network, and Medela Breastfeeding U.S., providers of the most technologically advanced breastpumps and breastfeeding accessories based on research by the world's leading lactation experts.
InsidersHealth is a membership-based, integrative health and wellness website offering the latest health news, tips for healthy living, and breakthroughs in medicine to a large internet audience through diverse media including InsidersHealth website, InsidersHealth magazine, newsletters, social media platforms, and video channels. Contributors include medical professionals, alternative health practitioners, and laypeople. InsidersHealth production studios are in Beverly, and Plymouth, MA.
Medela Breastfeeding U.S., founded in Zug, Switzerland in 1961, provides the most technologically advanced, superior-quality breastpumps and breastfeeding accessories to nursing mothers around the world. A longtime champion of breastfeeding, Medela is the only company to develop products based on research by the world's leading lactation experts. As a result, Medela's breastpumps are the number one choice of healthcare professionals and healthcare facilities worldwide, including 80 percent of U.S. hospitals.
Contact: Amy Pilling, Marketing Director
Tel: 505-913-7018
editors(at)insidershealth(dot)com
http://www.insidershealth.com
InsidersHealth
100 Cummings Center, Suite 128A, Beverly, MA 01915
Voice: 978-522-6644 (USA 011) or Fax: (978) 338-5813
# # #