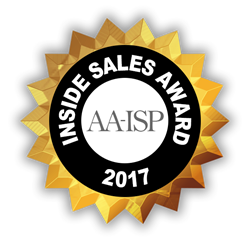 Minneapolis, MN (PRWEB) April 26, 2017
AA-ISP (The Global Inside Sales Association), recognized leading Inside Sales professionals, organizations, and service providers in the Annual Awards Luncheon at the 9th Annual AA-ISP Inside Sales Leadership Summit on April 20th.
The Leadership Summit was held in Chicago, Illinois, and featured presentations from more than 75 of today's most recognized Inside Sales experts and honored top individuals and organizations that have made a significant impact to the Inside Sales profession during the past year in a variety of categories.
"As the Inside Sales industry continues to grow, more and more individuals and companies are emerging to help support and advance our profession. Honoring individuals, companies, and service providers who dedicate so much time and effort to this cause is a small way to recognize these important efforts. The AA-ISP is proud to award the best of the best at the Annual Leadership Summit," said Bob Perkins, AA-ISP Founder and Chairman.
2017 Awards Recipients Include:
Top 25 Most Influential Inside Sales Professionals
In 2017, 26 Most Influential Inside Sales Professionals were named in a tie for nominations and scoring. The AA-ISP is please to recognize the following individuals who have lead our industry and were nominated by their peers:

Chad Angle, Comcast
Lauren Bailey, Factor 8
Ryan Bott, Impartner
Mike Brooks, Mr. Inside Sales
Peter Chun, Lucid Software
Dave Chwalik, Staples
Kevin Gaither, ZipRecruiter
Marina Garcia, MG Media Group
Derek Grant, SalesLoft
Richard Harris, Harris Consulting Group
John Healy, Factor 8
Nagaraja Javvaji, Cigniti Technologies
Ken Jisser, ReplyStream
Phill Keene, Octiv
Scott Leese, Qualia Labs
Thomas Leidigh, Infinity
Regina Manfredi, Factor 8
Mario Martinez Jr., M3Jr Growth Strategies
Kelly Molander, Siemens MindSphere
Gabriel Moncayo, AlwaysHired
Laurie Page, The Bridge Group, Inc.
Mark Ruthfield, Zaius
Hooman Shahidi, Yext
Tara Chenery-Staples, Bottomline Technologies
Peter Weyman, ZoomInfo
Paula White, Bound Tree Medical
Annual Member Awards
The AA-ISP honored the following individuals and organizations for their outstanding contribution to Inside Sales:

Excellence in Execution (AA-ISP Chapter) – San Diego Chapter
AA-ISP Chapter of the Year- Silicon Valley Chapter
AA-ISP International Chapter of the Year- Gurgaon & Noida Chapter
Corporate Culture – COACT Associates
Spirit Award – Dave Chwalik, Staples
Innovator Award – Thomas Leidigh, Infinity
Excellence in Execution – Paula White, Bound Tree Medical
Executive of the Year- Chad Angle, Comcast
Supporters of the Year: Robert Beattie, Thomson Reuters & Kathleen Glass, Oinkodomeo
Lifetime Achievement- Larry Sheffield, Experian
AA-ISP Scholarship Program
The AA-ISP Scholarship Program recognizes AA-ISP members and members of their immediate family who are pursuing a sales or business degree from an accredited college, university, or institution of higher education.
Samantha Lucero, Chico State
Service Provider Awards
Each year, the AA-ISP recognizes the top service providers nominated by users in the AA-ISP Service Provider Directory. Nominees are selected by AA-ISP members, and users are encouraged to provide an evaluation of their experience with the various service providers via an online assessment process. Service providers with the most positive and consistent ratings on the Service Provider Directory are recognized across a variety of categories. 2017 Winners include:

Service Provider (Consulting) - The Bridge Group, Inc.
Service Provider (Training & Development) – Factor 8 Training
Service Provider (Training & Development) – Funnel Clarity
Service Provider (Training & Development) – Mr. Inside Sales
Service Provider (Outsourced Services) – ConnectAndSell
Service Provider (Sales Acceleration) - Velocify
Service Provider (Sales Intelligence & Data) – ZoomInfo
About the AA-ISP
The AA-ISP, the global Inside Sales association and our industry's most trusted and respected resource for everything Inside Sales, is dedicated exclusively to advancing the profession of Inside Sales. The association engages in research studies, organizational benchmarking, and leadership roundtables to better understand and analyze the trends, challenges, and key components of the growth and development of the Inside Sales industry. Our mission is to help Inside Sales representatives and leaders to leverage our information and resources through published content, local community Chapters, global conferences, career development, and an Inside Sales Accreditation program.
For more information on AA-ISP, please visit http://www.aa-isp.org or follow the company on Twitter @AA_ISP.