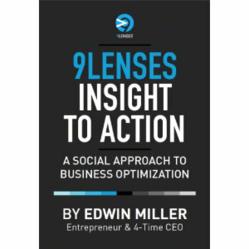 The insight to our business are in the minds of our key stakeholders and 9Lenses taps into that grey matter.
Washington, D.C. (PRWEB) March 07, 2012
9Lenses, the provider of groundbreaking insight discovery software for businesses, today announced that CEO Edwin Miller's new book, 9Lenses Insight to Action: A Social Approach to Business Optimization, is now available for purchase on both Amazon.com and the 9Lenses website. The book and the software demonstrate how business leaders drive action and insights for business by leveraging software, data, and people. Large orders of the book have been placed by George Mason University's School of Management for its Executive Education programs, as well as by Mindshare, an exclusive, invitation-only group of CEOs of high growth companies.
"We all know that business world is flat and speeding up daily. We need information and insight, and we need it to be connected and timely," said Edwin Miller, CEO and founder of 9Lenses, and author of 9Lenses Insight to Action: A Social Approach to Business Optimization. "The insight to our business are in the minds of our key stakeholders and 9Lenses taps into that grey matter. We need that data now to improve our clarity, alignment, and empowerment. Business owners and consultants alike want to get that critical information in hours, not months, and then they can begin their work of driving real change. This book, and this software, is about how people, insight, content, data, and software can come together to create meaningful action for a company."
In this recent video, Miller introduces 9Lenses to a group of CEOs in Northern Virginia. He points out that the insights business leaders need most are currently locked in the minds of employees, and 9Lenses offers a way for businesses to access, align and act on this information in real-time.
The book represents the first truly "end-to-end," comprehensive framework for understanding the most important aspects of businesses, and provides a dynamic blueprint for optimizing each aspect in the context of all important factors. Through the book, Miller identifies the nine key lenses that an executive needs to account for as they build successful businesses. Miller demonstrates that when the nine lenses align, businesses successfully accelerate to the next level.
Miller added that when the 9Lenses software is applied to businesses, it frees both business leaders as well as consultants to address the opportunities and weaknesses exposed in the 9Lenses output to drive performance improvements. Miller continued, offering that this book and software platform is a precursor to the likes of SuccessFactors being used by a business. "We first must know where the gaps and opportunities are in our business – truly know these," said Miller. "By leveraging social and a common meta-structure, for the first time ever we have powerful analytics on our business, right through the eyes of our employees. We have automated so many things in the business world with software, this is the first platform to automate the insight aggregation to action as a SaaS set of applications, which is outlined in this first book."
***ATTENTION REVIEWERS***
For the convenience of your readers, please include the following in your review: "9Lenses Insight to Action: A Social Approach to Business Optimization can be purchased online at https://9lenses.com/onlinestore.aspx, or by calling +1 (877) 891-2009."
A limited number of complimentary books will be available free for reviewers. Please contact Will Marlow at will(at)9lenses(dot)com to inquire.
ABOUT EDWIN MILLER
Edwin Miller, the Founder and CEO of 9Lenses, is an accomplished four-time CEO recognized as both a growth and a turnaround leader. He has proven his skills of leadership, motivation, and business model assessment and creation in both the public and private theaters. He has successfully transformed domestic and international organizations through both organic and acquisitive means. His experiences span many different technological, horizontal, and vertical markets. In addition to serving as CEO of 9Lenses, Edwin serves as Chairman of the Board for Callis Communications, board member of Spotlight Ticket Management Systems, and is an Adjunct Professor and Research Fellow at George Mason University. Edwin Miller can be booked for speaking engagements for executive audiences through the Washington Speakers Bureau.