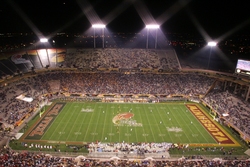 Takin' it to the Streets
Tempe, AZ (Vocus) December 9, 2009
The 21st Annual Insight Bowl is headed to Tempe, Arizona for the fourth year on December 31, 2009 at Sun Devil Stadium. Pre-game ceremonies will begin at 3:30 p.m. MST, with a 4:00 p.m. kick-off. Tempe, Arizona will be the epicenter for both football fanatics and New Year's Eve revelers.
Iowa State and Minnesota will compete for the Insight Bowl title at Sun Devil Stadium. The game will be televised live to a nationwide audience on the NFL Network.
Make plans now to cheer for Iowa State or Minnesota in Tempe, Arizona. Visit http://www.TempeFootball.com for ticket information, special hotel rates and information on events and activities.
When the Insight Bowl comes to a close, another exciting New Year's Eve party will be well underway. The Fiesta Bowl Block Party, Arizona's biggest and most exciting New Year's Eve party takes place in the Mill Avenue District, located adjacent to Sun Devil Stadium from 5:00 p.m. to 12:30 a.m. More than 100,000 party-goers annually celebrate the New Year amidst fireworks displays, live entertainment, beer gardens, street performers and more. Headlining the event on the main stage is the rock band The Doobie Brothers, who will be "Takin' it to the Streets" in Tempe, Arizona this year. Tickets are $20 at the gate.
Tempe's warm December weather is the perfect backdrop for football fans to enjoy the Mill Avenue District's restaurants and taverns. Beyond Mill Avenue, Tempe Marketplace is a destination of choice for dining, nightlife and shopping while Arizona Mills is home to 175 manufacturer outlets and attractions such as GameWorks and the IMAX Theatre. Additionally, it is easy to explore the scenic Sonoran Desert along hiking trails located just minutes from any Tempe hotel or resort.
For more information about Tempe, the Insight Bowl or the Fiesta Bowl Block Party visit the Tempe Convention and Visitors Bureau Web site, http://www.ExploreTempe.com, or call 800-283-6734.
About Tempe Convention and Visitors Bureau
The Tempe Convention and Visitors Bureau is a non-profit organization devoted to marketing Tempe, Arizona as a desirable visitor and group destination site. The Tempe Convention and Visitors Bureau's mission is to also provide visitors, media professionals and meeting planners with information on Tempe hotels, Tempe restaurants, Tempe entertainment, and local points of interest. To learn more about Tempe, Arizona please call 480-894-8158 or 800-283-6734 or visit us at http://www.tempecvb.com.
###