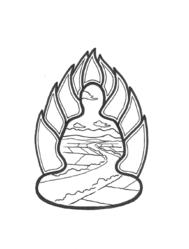 Our weekly open sittings are a great way to get to know Insight PV. Drop by Mondays at 5:30 p.m. or Wednesdays at 7:15 p.m.
Easthampton, MA (PRWEB) February 16, 2012
Insight Meditation Center of Pioneer Valley is pleased to announce sittings, classes and retreats for February-August 2012. Insight PV serves Western Massachusetts from its welcoming meditation hall at Eastworks, 116 Pleasant Street in Easthampton, Massachusetts. We help bring the Buddha's teachings of kindness, compassion and wisdom into daily life. All events are offered on a 'suggested contribution' basis. No one is turned away for lack of funds. View our current brochure for a complete schedule of events.
To meet the needs of a growing number of new meditators, Insight PV will offer "Introduction to Meditation", a Saturday half-day retreat on February 25 led by Peggy Gillespie and Manny Mansbach. Starting April 2, Kim Weeber will teach a six-week Monday evening "Beginning Meditation" class.
The theme of mindfulness and relationships will be explored through a Monday evening class starting February 27 taught by Rebecca Bradshaw. Chas DiCapua will lead a one-day retreat on the same topic on Sunday, April 15.
Insight PV will be honored this spring with a visit from Founding Teacher Arinna Weisman. She will lead a one-day retreat entitled "Transforming Our Daily Lives" on Sunday, March 25. A Tuesday evening class on "Awakening Joy" will be taught by Adi Bemak and Peggy Gillespie beginning April 24, and Kim Weeber will lead a one-day retreat on "Living with Kindness and Compassion" on May 19.
Insight PV's Young Adult sittings (for those aged 18 to mid-30s) continues on the second Thursday of the month from 7-8:30 p.m. The next Young Adult sitting takes place on March 8. Jean Esther and Nick Boutros will lead a "One-Day Retreat for the LGBTQ Community" on Sunday, April 1.
Other opportunities for developing mindfulness practice include an informal monthly series of Saturday morning drop-in sittings beginning March 17. Mindfulness in the outdoors will be cultivated with a hike on Sunday, June 10 led by Chas DiCapua (pre-registration required).
During the summer Insight PV will welcome an array of visiting teachers. Claire Stanley will lead a one-day retreat on "Cultivating Wise Intention" on Sunday, June 24. Jesse Maceo Vega-Frey will lead another one-day retreat titled "The Practice of Presence" on Saturday, July 21. On Wednesday, August 1, Spring Washam, a pioneer in bringing mindfulness into diverse communities, will speak at Insight PV from 7-9 p.m.
A good way to get to know Insight PV is to attend an open sitting, Mondays at 5:30 p.m. or Wednesdays at 7:15 p.m. No experience is necessary. Meditation instruction is provided upon request. Each 45-minute sitting is followed by an optional period for discussing meditation practice. Chairs, cushions, and benches are available.
Insight PV is wheelchair accessible and equipped with assistive listening devices. For the comfort of those with chemical allergies, no incense is used. For more information about our events and teachers, please visit our website at http://www.insightpv.org.
###