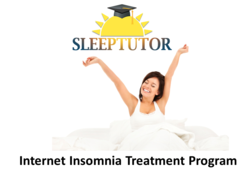 We are bridging the gap between patients and health care providers by offering a drug free program that has proven to be quite successful in dealing with chronic insomnia
Fort Myers, Florida (PRWEB) December 18, 2012
Sleep960 launches SleepTutor, an Internet insomnia therapy program for primary care and dental sleep professionals. The new SleepTutor website was designed specifically for Primary Care and Dental Sleep Professionals looking for an effective drug free, internet based program to refer their patients suffering from chronic insomnia. Insomnia remains the most prevalent of all sleep disorders causing an estimated $62 billion of lost revenue each year in the United Sates. Although many of us suffer from brief episodes of insomnia from time to time an estimated 30 million Americans suffer from chronic insomnia, defined as the inability to fall asleep and/or maintain sleep for 3 nights per week for 3 months or longer. More and more clinical evidence concludes that lack of quality sleep has dire health and lifestyle consequences.
The most common treatment prescribed for insomnia is a variety of prescription sleeping aids that basically provide sedation and mask the underlying problem. The extensive prescribing of these medications has led to a multibillion dollar business for pharmaceutical companies which has caught many patients in a extended cycle of pill popping and continued frustration as they struggle to get a good night's sleep. Primary care physicians and the growing number of dentists entering into sleep medicine are essentially the gatekeepers of our health and are often exposed to patients with symptoms of insomnia.
SleepTutor was developed to address the need for a drug free alternative in treating insomnia that is easily accessible to patients referred from their primary care and dental sleep providers. It uses Somnio, the first commercially available internet based Cognitive Behavior Therapy program that was introduced in 2005. Since then thousands of insomnia patients have benefited from the educational and therapeutic advantages of this highly successful program.
SleepTutor differs from other internet based therapy programs in that patients can only enroll in the treatment portion by a referral from their health care provider. Each medical or dental practice licensed to use SleepTutor is supplied with custom brochures that include a unique referral code allowing patient's access to a webpage specific to their practice. This exclusive webpage contains information about the practice providing the patient with a more personal connection to the program rather than visiting a generic website.
"The real issue here is educating patients and health care professionals that there is a very effective and validated method of treating insomnia with much better results than traditionally prescribed sleeping aids" states Andrea Clark, MSW and Director of SleepTutor "We are bridging the gap between patients and health care providers by offering a drug free program that has proven to be quite successful in dealing with chronic insomnia."
Another unique aspect of SleepTutor is that the referring health care provider is kept in the treatment loop. "An important factor in the success with this program is that the physician or dentist receives a copy of the patient's summary report indicating the results of the program" says Clark "Since we also track patients that may opt out of the program the referring health care provider can be notified and made aware of the situation."
Visitors to the SleepTutor website without a referral code can still access the digital library which contains an extensive amount of clinical and validation information to help them gain knowledge of insomnia and how the treatment program works. Patients enrolling in the program can securely pay online with a 14 day no risk money back guarantee. A percentage of the enrollment fee from each patient completing the program is available to the health care professional providing the referral which is licensed free to qualifying providers.
About Signature Sleep Services LLC
Signature Sleep Services (dba Sleep960) is a sleep medicine resource company providing diagnostic & therapy products, consultation & management services and Polysomnography educational courses. In the products sector Sleep960 offers a novel patient referral generator application for identifying and referring patients with sleep disorders in a medical practice setting. Additional products include an internet insomnia treatment program and complete PSG diagnostic system. In the services sector SLEEP960 provides sleep center accreditation assistance, management contracts and general consulting. A sister company the Florida International Sleep School provides a variety of Polysomnography courses with a blended mix of on-line, on-demand and traditional classroom sessions.