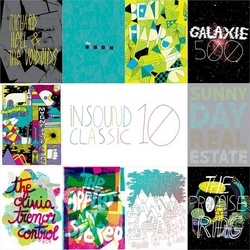 The go-to for all things indie rock
New York, NY (PRWEB) August 17, 2009
Following last year's award winning Insound 20 design project, featuring Jason Munn's interpretation of 20 current indie bands, Insound is returning this year with a different spin on the concept. Beginning in mid-August, Insound will reveal 10 designs by Mike Perry, the designer, illustrator, editor and maker behind the popular design books, "Handjob" and "Over and Over".
This series is being called the "Insound 10 Classic." Instead of featuring contemporary bands in the designs, Insound and Mike opted for seminal punk, new wave and indie bands from the 1970s through the 1990s. The list of bands is a veritable who's who of indie rock's history:

Richard Hell & The Voidoids
The Feelies
Galaxie 500
Beat Happening
Sleater-Kinney
The Magnetic Fields
Sunny Day Real Estate
The Promise Ring
The Olivia Tremor Control
The Apples in Stereo
The idea of a single artist conceiving designs for so many contemporary indie bands was a novel and ambitious idea when the Insound 20 launched in 2008. This new series, however, will revisit older or, in some cases, defunct bands' identity through a contemporary design lens. While compelling for both the designer and label, it ultimately was developed with the fan in mind -- to provide new, creative products for those hungry for well designed products from bands that might not have much (or any) new merchandise in the market. The bands were selected to create a sense of history and narrative, spanning many genres and nearly 20 years of underground and independent music.
The designs will be printed on premium, American Apparel tshirts, as well as on tote bags and signed and numbered silk-screened posters. All products are limited edition and the posters are limited to just 100 copies. Orders will ship from Insound in mid-Sept.
All product information and images can be found at http://www.insound.com/classic10.
ABOUT INSOUND:
Yes, Insound is the online indie rock superstore. Yes, Insound is also the online vinyl superstore. Yes, we also have the best selection of impeccably designed silk-screen concert posters and band t-shirts anywhere. Yes, we also carry a bottomless selection of essential vinyl re-issues from seminal classic rock, proto-punk, punk, post-punk, folk, psych, new wave and no wave bands. Yes, we have the world's largest selection of LP titles with free, instant MP3 downloads included (no download card required). Yes, we have a must-see-to-believe selection of turntables, music art books, gifts and vinyl accessories. Yes, we were the first place to sell the Yeah Yeah Yeahs, Clap Your Hands Say Yeah and Interpol. Yes, we have been proudly serving music nerds around the world since 1999. Yes, we are music nerds, too.
"The go-to for all things indie rock" - NPR's "All Things Considered"
ABOUT MIKE PERRY:
Mike Perry (http://www.mikeperrystudio.com) works in Brooklyn, NY. Making books, magazines, newspapers, clothing, drawings, paintings, illustrations and teaching whenever possible. His first book, titled "Hand Job", published by Princeton Architectural Press hit the book shelves in 2006. His second book, titled "Over & Over", was released fall 2008. He is currently working on two new books. In 2007 he started a magazine called "Untitled a..." that explores his current interests. The third issue came out spring 2009. He has worked with clients from Apple, New York Times Magazine, Dwell Magazine, Target, Urban Outfitters, eMusic, and Nike. In 2004 he was chosen as one of Step Magazines 30 under 30, in 2007 as a groundbreaking illustrator by Computer Arts Projects Magazine, 2008 he received Print Magazines New Visual Artist award and the ADC Young Guns 6. His work has been seen around the world including a recent solo show in Portland at the Grass Hut titled "Giant Zine Art Show."
# # #