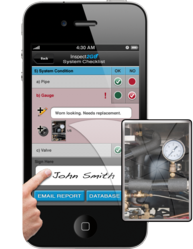 Email inspection checklist reports straight from the field...no paperwork
Los Angeles, CA (PRWEB) July 14, 2011
Inspect2GO works with businesses to convert their inspection checklists and forms into mobile apps (see http://www.inspect2go.com/checklists/). Each new app is developed specifically for an iPad, iPhone, Android tablet or Android smartphone. Mobile checklist apps save time, eliminate paperwork and reduce errors.
In today's business world, work that is conducted away from the office can now be recorded easily and permanently using a mobile app. For example, an insurance inspector performing a home walk through after a fire can now document the damage, create a report and email the results, all from the field. A regulatory affairs consultant can pull documentation from a database, check for compliance, record violations and send the results back to a database.
Businesses interested in this new technology can submit their existing inspection checklists, questionnaires, surveys, spreadsheets and other documents to Inspect2GO. Inspect2GO then tailors its mobile inspection software to meet the specific needs of the client, complete with company branding, database interaction and custom reports.
Convert Checklists to Mobile

Regulatory inspection (DOT, USDA, EPA, DOD, FDA...)
Vehicle, property and safety inspection checklists
Business documents, surveys and audit checklists
Medical, legal, civil engineering, insurance audit, electrical utility and manufacturing checklists
About Inspect2GO
Inspect2Go is a mobile application development company based in Southern California. The firm's technology includes inspection checklist mobile apps with signature, photo, markup, custom reporting, pdf email and database export functions. The checklist apps are compatible with Apple iOS (iPhone, iPad) or Android.
###