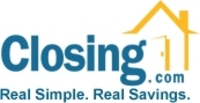 We believe that Closing.com is the perfect venue for HouseMaster customers whom we encourage to make informed decisions when selecting their service providers
San Diego (PRWEB) April 21, 2009
HouseMaster®, one of the largest home inspection franchisors in North America, has partnered with Closing.com, the most comprehensive source for real estate services on the Web, to connect directly with consumers online. All of HouseMaster's more than 325 U.S. franchises will have a premium listing on the site during an initial 12-month term. Housemaster franchisees will post comprehensive information about their credentials, features, services and prices.
Closing.com is a new Web site that makes it easy for visitors to search for real estate closing services in their area. It enables users to compare features and services, learn more about each company, make inquiries, and download brochures and coupons all on one easy-to-use Web site. "We are pleased to welcome HouseMaster in this valued new partnership," said Closing.com CEO, Tony Farwell, "As the industry shifts to meet the needs of Web-savvy consumers and real estate professionals, our goal is to provide a one-stop shop that helps real estate closing service providers promote their services, upload their rates and generate more business."
Closing.com provides more than 150,000 real estate service listings across the nation reaching every major metropolitan area. Proprietary rate engines make it possible to display real estate home inspection rates instantly. "We believe that Closing.com is the perfect venue for HouseMaster customers whom we encourage to make informed decisions when selecting their service providers," said Kathleen Kuhn, HouseMaster President.
The Web site can be accessed at http://www.closing.com. To verify their free business listing, HouseMaster franchisees can call 1-866-CLOSING (256-7464). Professional home inspectors can add a link to their Web site, descriptions of their services, brochures, coupons and promotional messages, track new leads and use simple tools to upload their rates and fee disclaimers.
About HouseMaster
Headquartered in Bound Brook, N.J., HouseMaster is the oldest and one of the largest home inspection franchisors in North America. Each HouseMaster franchise is an independently-owned and operated Business. HouseMaster® is a registered trademark of DBR Franchising, LLC.
About Closing.com
Closing.com empowers consumers and real estate professionals to shop, compare and evaluate real estate services in their geographic area and save money on closing costs. Visitors to the site can estimate their closing costs, learn more about a real estate provider's products, services and rates, and make inquiries to providers directly online. The site is owned and operated by ClosingCorp (http://www.closingcorp.com), an independent real estate information services company based in La Jolla, CA.
###