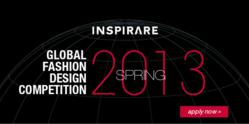 Inspirare provides designers with a supportive and socially involved platform where they can launch their careers.
San Francisco, California (PRWEB) February 14, 2013
Inspirare.com announced their second seasonal 2013 Spring fashion design competition, giving up-and-coming designers a chance to have their garments promoted and sold, without charge. The social networking fashion site is offering a total of 10 various prizes for 10 winning entrants in the competition, which currently runs until March 31, 2013. The judges include well known global fashion bloggers, such as Rachel Schwartzmann, Anna Gotsyk, Jessica Christ, Tieka, Lainy Alexandra Hedaya, Annalisa Arcando, Jessie Artigue, Charlie May, Anais/Estelle, Bailee Edgington, Academy of Art University Fashion School instructor Flore Morton, and last year's first place Inspirare Design Competition winner, Alejandra de Coss.
The winning design and its designer will be the feature of the site's news and marketing and will be promoted via the Inspirare website and newsletter, with a full page feature; Inspirare's Facebook, Twitter and popular blog; through targeted advertising and its media partners. The first place winner will be featured on the upcoming Inspirare Market Place, Inspirare Magazine, and his/ her name or label will be featured by Inspirare's Competition Judges in their high profile blogs. Finally, the winner can choose from a product development assistance package, $700 gift card, or 3 nights hotel paid in San Francisco. There is no entry fee into the competition.
The event is being used to promote the continual success of Inspirare.com – a fashion site with a social media twist. Through a system of votes and forums, customers decide the trends that flourish on the site. Inspirare plans to make their already popular competition a seasonal event, to give designers multiple opportunities to get their designs and products to Inspirare's rapidly growing fan base.
Sean Peng, CEO and Founder of Inspirare.com, says, "Emerging designers are an under served market. Through multiple channels, the Inspirare team thrives on discovering and promoting talented emerging designers worldwide."
The site creates a direct line between designers and customers, where designers can write about their own designs and inspirations and customers can give feedback and get to know the talent behind the label. The site provides worldwide exposure for up and coming designers by keeping up online interest about them, through their blog and online magazine. That platform allows designers to test products in the Market Place and sell their designs directly to customers, paving the way for smaller labels to make it in the global fashion scene. Inspirare has already caught the attention of well-known, global fashion labels and is continuing to draw attention and support in the international fashion world.
To submit a project for consideration, designers must first apply and be accepted into the program. They can then submit up to three women's wear design entries into the competition.
For more information about this exciting social fashion site and the fashion design competition, visit Inspirare.com.
About Inspirare.com
Inspirare is part of the San Francisco fashion scene and is dedicated to supporting the next wave of emerging fashion designers, world-wide, through marketing, social media, market place platform, and connecting consumers with new undiscovered talented designers. Inspirare provides an assistant for each designer to help them in the process of selling, benefitting designers through collective and targeted advertising efforts.