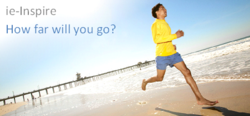 We're putting our foot down against domestic violence...
St. Petersburg, FL (PRWEB) June 29, 2011
Professional inspirational speaker Jeff Silva, who is President and CEO of ie-Inspire, stated "Over the next twelve months we will donate $1.00, or (net) 85% from every 'EmpowerBoost' [an MP3 downloadable inspirational speech] from the website (http://www.ie-inspire.com/empowerboost) to the National Coalition Against Domestic Violence with the goal of reaching $1M". As a child, Jeff himself came from an abusive domestic environment, and has a sincere passion about the cause. "We're putting our foot down against domestic violence, and social violence," says Jeff Silva, "every dollar we raise is a step closer to the goal of ensuring peace in our homes and in our streets." One of the many staggering statistics from the NCADV website (http://www.ncadv.org) is: Witnessing violence between one's parents or caretakers is the strongest risk factor of transmitting violent behavior from one generation to the next. In a further comment Jeff states, "It's sad to see children in society behave the way they do, knowing there is some issue in the home that is partially responsible for driving this behavior." This is an issue that cannot be resolved with a drug, or medical procedure, however it is just as destructive as any physical illness. It is proven that if unresolved, these children grow up to carry on these destructive temperaments in the workplace, their homes, and in society. Jeff points out, "Social bullying, workplace bullying, and cyber bullying is an issue that is not bias towards any race, gender, or generation it is affecting everyone."
ie-Inspire has posted the campaign (1M people + 1 download each + 1 year = $1M for National Coalition Against Domestic Violence) on the company YouTube channel (search ie-inspire on YouTube), Facebook page (search ie-inspire on Facebook.com), LinkedIn (seach Jeff Silva, St. Petersburg, FL) and Jeff mentions it from the platform when speaking. "We're calling on everyone to join the movement against violence." ie-Inspire also donates portions of speaking revenues received as Jeff travels as an inspriational speaker to various meetings, conferences and events throughout the United States. Jeff is in the process of writting his first book, and a portion of revenues received from those book sales will also go towards the cause.
This is a much needed campaign. "It is time to call for peace in our streets". Through this an other efforts, ie-Inspire hopes to see additional support for those needing the emotional, and psychological help to resolve their issues in the home and in society.
Organizations that commit to distributing the http://www.ie-inspire.com/empowerboost page throughout their teams get a mention on http://www.ie-inspire.com/partners page. There are three categories from which to choose your inspiration: Sports and Fitness, Growth (personal growth, or professional growth), and Peace and Happiness.
ie-Inspire is a dba of JMS Group Services, LLC based in St. Petersburg, FL. Through public speaking, the EmpowerBoost web page, and a future book, ie-Inspire is inspiring empowered individuals to achieve maximum results.
For more info:
Call 727-329-8637
Write to ie-Inspire PO Box 21365 St. Petersburg, FL 33742
or email Jeff Silva from the Contact Us page on ie-inspire.com
###