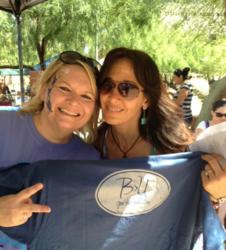 B>U's mission to inspire individuals includes helping those climb from their lowest depths of grief.
Austin, TX (PRWEB) May 31, 2013
B>U's recent sponsorship of the third annual Phoenix, AZ MISS Kindness Walk helped raise more than $30,000 for the grief support organization. B>U is an inspirational brand and community helping individuals become greater than themselves for a greater world.
The Phoenix event featured a one-mile walk and assorted kids activities along with a Safety Fair. The event also premiered their first "Wall of Grief" featuring photos of the MISS parent's dead children.
"B>U's mission to inspire individuals to become greater than themselves one small step at a time reaches individuals at every emotional level including the lowest traumas of grief," states B>U Founder Matt Evans.
"It's an honor to support this event and what it represents to helping parents out through their worst nightmare."
B>U sponsored the event through cash donations and give-aways of their signature tee shirt designs.
The MISS Foundation, an Arizona-based international non-profit organization with a staff of dedicated volunteers, aids thousands of families who have experienced the heartbreak of child death.
MISS's outreach in communities throughout the U.S. include support groups for adults and children, crisis intervention, one-on-one counseling services, retreats, and a network of ancillary groups that work together to provide assistance to parents, siblings and grandparents.