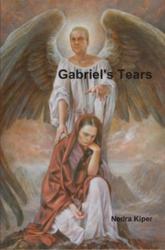 Gabriel's Tears is divinely inspired by God's right hand angel Gabriel himself.
(PRWEB) May 16, 2013
"Gabriel's Tears" is a new motivational story that will tenderly touch the heart, inspire faith, and help in healing post traumatic stress disorder. "Gabriel's Tears" provides answers as to why there is suffering, abuse, and domestic violence.
"Gabriel's Tears" describes the life of a survivor of extreme domestic violence. Living in a home of violence, she is sexually abused, emotionally abused, and sees death, nearly dying many times at the hands of her abusers. At age nine she is gang raped and left for dead. Although she feels like she is alone, her Angel Gabriel is always right beside her, helping her and guiding her along her life's path. When she sheds tears from the abuse, Angel Gabriel sheds tears for her pain.
The inspirational story continues when, after suffering for years from post traumatic stress disorder, the narrator has not a single human friend or ally. In desperation she prays a prayer like none other. She asks God, "Why me God? Why did I have to suffer so much abuse over the years? Why did this happen to me? Why can't I have someone to help me?" Then she asks God to send her an angel to help her heal. Soon she learns that God answers prayers in the most miraculous ways imaginable, and she also learns why Angel Gabriel has tears.
Each year nearly six million children are reported as suffering the devastating consequences of child abuse and neglect. Few of these individuals escape abuse's long-term effects: depression, anxiety/panic attacks, and fear caused by the abuse and neglect. The healing process often leaves the person bitterly angry and depressed for years or decades. For children and adults who have been abused or neglected, "Gabriel's Tears" shows a path to find peace and contentment.
"Gabriel's Tears" author Nedra Kiper passionately describes her writing process. She states, "I was inspired to write 'Gabriel's Tears' after my conversations with Angel Gabriel himself. This is information the whole world needs to know. God's angels are right here on earth with us, crying for us and taking care of us when we need their help. Angels very seldom reveal themselves as angels since they can't influence human's free will. In this time of increasing domestic violence and especially child abuse, it is time the world knows that the angels are right here with us. The Angel Gabriel has given me information the world needs to learn. This information can only be found in 'Gabriel's Tears.'"
About Nedra Kiper
Nedra Kiper was born on public assistance and suffered extreme child abuse. In her early 20s she was declared mentally retarded and placed on mental disability. In her 30s, against all odds, she went to college and became a successful programmer analyst for fourteen years. Now she is working independently at helping inspire others to grow as she has grown.
Media Samples
Media samples are available upon request.
For more information contact: Nedra Kiper, email: Nedra.Kiper(at)GabrielsCompassion(dot)org , phone: 605.413.1107
ORDER "Gabriel's Tears" directly from the publisher at http://www.GabrielsCompassion.org, lulu.com, Amazon.com, Booksamillion.com and through additional wholesale and retail channels worldwide.
Title: Gabriel's Tears
Author: Nedra Kiper
Genre: Biographies & Memoirs
ISBN: 9781300818311
Publication Date: March 8, 2013
Pages: 313
Price: $29.98
Publisher: lulu.com