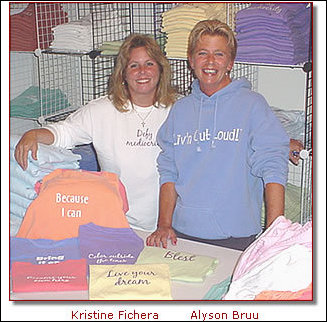 I hope everyone will support the Liv'n Out Loud! product line and embrace the freedom of the Liv'n Out Loud! lifestyle
Hampstead, NH (PRWEB) October 12, 2006
Just as Liv'n Out Loud! Clothing Company launched their newest line of tees in their wildly popular "Lifestyle series", emails began to come in from around the country, requesting appearances on West Coast Morning Television.
"When I got this email last week, I booked my flight immediately", said Bruu, co-founder of Liv'n Out Loud! Clothing Company. "We were anxious to show the San Diego market our fresh new line of 100% cotton, sun-washed clothing that embodies the human spirit and encourages you to live an authentic, inspired life – especially our brand new, hot off the presses line of crew neck, short sleeve tees that contain sayings such as flaunt your humanity; participate in your dreams; define your reason for being and experience the edge of life".
'Your company is so inspiring. I would love to get the story out. Is there any way we can set up a segment, in studio with a couple of models and a display of the items? Would it be possible to plan for segment, in San Diego? The show I produce is "Inside San Diego" a magazine style show'.
Alexis Garcia
KUSI-TV
Inside San Diego
"The very same day" Bruu said, "I got an email from another producer in Reno, NV who seemed to have a great sense of immediacy to get Liv'n Out Loud! onto her morning show."
"Could you come in studio and do and interview?"
Jennifer Rogers
Daybreak Exeuctive
Producer/Reporter
KOLO News Channel 8
On Tuesday, October 17th, Alyson Bruu, co-founder of Liv'n Out Loud! Clothing Company will appear on "Inside San Diego", a magazine-style morning show that serves the greater San Diego market from 10am-11am. On Wednesday, October 18th Bruu will appear on KOLO News in Reno, NV, 5am-7am.
Liv'n Out Loud! is about the Clothing…but also about The Lifestyle. There is a powerful movement of 'self-empowerment' underway at Liv'n Out Loud! – and it is coming directly from the customers themselves. see customer Liv'n Out Loud! stories
They are forward-thinking individuals who are pushing the envelope on their lives; living authentically, with tremendous inspiration, facing their fears head on, discovering who they are – sometimes even 57 years later, wildly fulfilling their dreams, walking along the edges of their joy and their sorrow…fully alive!…all because of the spirit that launched the Liv'n Out Loud! brand, and continues to sustain the brand each and every day.
Celebrating its first year in business, the company is already:
Attracting loyal fans from across the country and around the globe, including customers from Italy and Canada
Gaining national media attention in numerous publications and television networks, including features on New England Cable News, Entrepreneur Magazine and much, much more
Posing with the Governor of New Hampshire, John Lynch, as he invited Bruu and Fichera to the State House for a photo opportunity with the 3 of them wearing Liv'n Out Loud! clothing
Earning the praise and support of celebrities, such as actor Alec Baldwin. "I hope everyone will support the Liv'n Out Loud! product line and embrace the freedom of the Liv'n Out Loud! lifestyle," Baldwin said. (A national PR campaign is being considered for 2007, with Alec as the centerpiece, since Alec and Liv'n Out Loud! are fanatical about the ASPCA…where a portion of all Liv'n Out Loud! sales go. The national campaign is meant to increase the level of giving to the ASPCA through Liv'n Out Loud! Clothing.
Liv'n Out Loud! is a constant labor of love for Fichera and co-founder Alyson Bruu. The two women created the company, following a personal disaster, as a way of doing something more meaningful with their lives. In 2004, Bruu nearly died from complications following routine surgery, while Fichera gave up a lucrative position and an 18-year corporate career to start the business.
Liv'n Out Loud! Clothing Company, based in Hampstead, NH, makes clothes for the soul; clothing that embodies the human spirit. 100% cotton "comfort-stuffs" in over 40 sun-washed tones that convey a full range of evocative quotes, inspirational sayings, encouraging messages, and motivating thoughts. Stuff that, when pulled over your head, inspires you to live the life you've only dared to imagine. The Logo and Lifestyle lines includes Relaxed and Slim Fit short and long sleeve tees, V-Neck short sleeve tees, Cap-Sleeve tees, tank tops, Ringer tees, Hoodie, Boxy and Full Zip sweatshirts, baseball hats, tote bags, tire covers, mugs and more.
Customers can purchase the company's merchandise online or by phone at 603-329-9599. Liv'n Out Loud! products are also available in select retail stores in the United States.
The company donates a portion of its sales to the American Society for the Prevention of Cruelty to Animals (ASPCA).
Liv'n Out Loud! Clothes for the Soul…
###