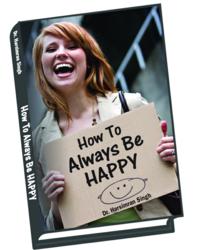 How To Always Be Happy book is a must read to be truly happy in life
Upper Brookville, NY (PRWEB) March 29, 2012
Learn how to be happy and wealthy from an immigrant who migrated to the USA with a total of $8 and is now ranked #1 when one Googles, "Rich Immigrants."
Dr.Harsimran is an author of 13 inspirational books. The following is an extract from his book "How to Always Be Happy," which may be very helpful for anyone to be happy and wealthy in life.
Especially during this recession, , it would be fair to say that almost every American is concerned or preoccupied with money and finances, in one way or another. As with any problem or conflict, it's not necessarily identifying the issue or problem but more so how the individual or group of individuals plans on finding a solution to that issue, problem, or conflict. Money is such a sensitive subject for so many people because, frankly, most people live paycheck-to-paycheck to pay their monthly bills and other expenditures while others make more and spend more as a result.
Dr.Singh believes that most of the problems individuals have with money are those they have created through their decisions on how to spend. As the saying goes, it's not how much money one  makes  but how much one saves that matters. Furthermore, what one  saves is determined by how one  lives one's life and how one utilizes the financial resources one has access to.
Author writes in his book that If money is an issue, or even if one wants  to save more money, one must learn to live by, and not beyond, one's  means. This translates into spending money on what one needs and not so much on what one  wants. Since society in general has become so materialized, many would argue that wants and needs are the same. This is not true. "Wants are luxuries—new cars, the finest clothes, fancy dinners and parties. Needs are essentials—paying the mortgage and bills, putting food on the dinner table, maintaining one's method of transportation that gets one  to job.", says Dr. Harsimran Singh
Dr. Singh further writes that people who choose to live their lives examining money in such a manner end up happier because they feel they have some control. If that's the case, why shouldn't every one? Learn to budget. Write down everything that one buys. Don't leave anything out—include any expenditure, be it a night out on the town, trendy clothing, dry cleaning, or a birthday present for one's niece or nephew.
Now, look over this list and be honest about where one can cut down on spending, particularly if it's unnecessary. Luxuries such as high car payments, dining out frequently, and high interest credit card balances can be cut down. 
"Inspirational quotes are akin to a blazing fire. If fuel is not continually added, the fire gets extinguished. So keep on adding the fuel of positive thoughts," says Dr. Singh.
Dr. Singh credits his success to Search Engine Optimization, which helped him have his websites ranked at the top of search engine results. He wants others to be successful as well. He wrote the book "SEO Secrets to BIG Money" (valued at $45.95), which can be downloaded for free by clicking SEO.