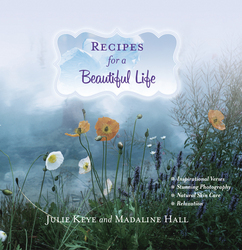 A joy to browse.
Los Angeles, CA (PRWEB) November 10, 2010
The authors, Madaline Hall and Julie Keye, have come together to bring you "Recipes for a Beautiful Life". It is filled with some of the most uplifting verses in the Bible, to bring about messages of hope, wisdom and beauty. Each full color photograph has been carefully chosen to match the feeling of the verse. The second part of the book has messages of why it is important to set aside time every day to relax. When we feel good about ourselves, we see the world differently. The spa recipes are for a variety of skin types: sensitive, dry, normal, oily or mature. These treatments are made from ingredients that you have in your home, such as yogurt, oils, avocado, cucumber and many others.
When Madaline and Julie first began writing "Recipes for a Beautiful Life", they knew that they wanted to write something that would be meaningful to others and help people cope through times of stress. Knowing each other since they were eleven years old, they shared common values and interests, which helped them get through tough times. However, each had her own way of looking at life.
Madaline felt she was more spiritual than religious. Julie came from a Jewish background, but became a Christian several years ago and finds meaning in both religions; two different people with two different viewpoints. So what did they do? They went to the greatest book ever written. And whenever they disagreed, they both prayed. The results surpassed their expectations.
It truly is a wonderful introduction for someone who has never opened up a Bible, and many people who know the Bible find "Recipes for a Beautiful Life" a "joy to browse" and the skincare recipes, an added treat.
Please feel free to check out our website: http://www.recipesforabeautifullifebook.com
ABOUT THE AUTHORS
Madaline Hall was born in New York. She has two children and worked as an insurance broker. She was co-owner of Crafty Concepts, a craft business and is dedicated to photography and writing inspirational works.
Julie Keye was also born in New York, became a film editor and has written a screenplay and a children's book. Her daughter was a missionary for Campus Crusade for Christ in Japan.
# # #