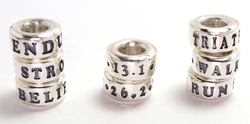 "These versatile beads and bracelets are a fun way to express your individuality in a unique, fashionable way. You can tell your own story by adding special beads, and now running or triathlon events can be a part of that story..."
Hobe Sound, FL (PRWEB) May 19, 2010
Florida-based Inspired Endurance is proud to announce the launch of their latest jewelry collection featuring Endurance and Inspiration Beads for all levels of endurance sports enthusiasts. The company offers hundreds of designs and sells thousands of fitness-oriented bead bracelets, pendants, charms, and chains annually online and at fitness expos and race events across the United States.
Inspired Endurance founder Marie Scholl explains, "Now there's finally a bead that both seasoned and aspiring athletes can add to their bead bracelets to express their individual accomplishments." Eight new beads are included in the collection, retailing at $30 each. Each measures 7/16" in diameter and is handcrafted in the USA from recycled sterling silver. The collection includes commemorative beads marking Walk Endurance, Run Endurance, 13.1-mile or 26.2 mile Marathon Endurance, and Triathlon Endurance as well as "Strong", "Believe", and "Endure" Inspiration beads.
This latest line of beads easily fit onto the Pandora™-style bracelets Inspired Endurance retails, which allow wearers to make meaningful additions as they train for or meet new challenges. The beads are also compatible with a range of other add-on bead bracelets. "These versatile beads and bracelets are a fun way to express your individuality in a unique, fashionable way. You can tell your own story by adding special beads, and now running or triathlon events can be a part of that story," Scholl adds.
An experienced triathlete herself, Scholl notes, "Whether you've completed your first charity walk, run your first 26.2 mile marathon, accomplished your first triathlon, or have been doing these events for years, these momentous and at times, life-changing occasions are something to celebrate. I wanted our beads to do just that."
To view and learn more about Inspired Endurance's new Endurance and Inspiration Beads collection, visit http://www.inspiredendurance.com. The web site features a wide range of sterling silver, 14 karat gold, and gemstone accented jewelry designs priced from $10 to $300, with a majority of items affordably priced below $50.
About Inspired Endurance
Founded in 2007 by triathlete Marie Scholl, Florida-based Inspired Endurance believes in offering high quality fitness-themed jewelry that is fairly priced, expertly crafted, eco-friendly, and made in the USA. The company's handmade line of pendants and charms utilize HARMONY™ metals which are recycled from the Earth's existing metal supply - including scrap metal purchased from jewelers - which means materials do not come from mining companies. Primarily retailing online, the company also sells and exhibits at marathons and expos throughout the year including the Women's Running® Magazine Half-Marathon Series, Disney's Princess Half-Marathon, and the More® magazine/Fitness® Magazine Half-Marathon. Learn more at http://www.inspiredendurance.com.
# # #