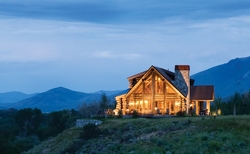 Meridian, ID (Vocus) August 29, 2009
Mountain Architects, PrecisionCraft's design firm, is well known for its design ingenuity and Floor Plan Gallery showcasing a wide-ranging collection of log home plans and renderings. Each new design is created to inspire the log home community and spark an interest among those who dream of one day having a log home.
Over the past few months, PrecisionCraft has presented its Inspired Living stories, real life examples of clients turning Mountain Architects' design concepts into extraordinary log homes. This month, PrecisionCraft takes you on a tour of its final Inspired Living home, a beautiful handcrafted log cabin home nestled in the Lemhi Range just outside Mackay, Idaho.
Surrounded by Idaho's most spectacular mountain peaks, rivers and headwaters, David and Sue's log cabin brings forward the perfect blend of rustic and modern living. Its design and architectural style is a natural fit for the old mining culture of Mackay, Idaho. Weathered handcrafted logs, galvanized metal roofing, and rustic interior finishes all add to the rustic charm of this cabin that by all appearances has been there for over a century. Take a tour of this handcrafted log cabin home and hear how this Idaho couple realized their dream home.
As you visit PrecisionCraft.com and read the Inspired Living stories, remember to browse the award winning Log Home Plans Gallery. For PrecisionCraft's most popular plans, you will also find what PrecisionCraft calls their featured Client Variations; examples of how their clients have taken a Mountain Architects' plan and customized it to make it their own. Now that's Inspired Living.
###