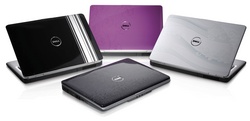 ROUND ROCK, Texas (PRWEB) January 3, 2008
Dell today announced the Inspiron(TM) 1525, a 15.4-inch notebook that is smaller, slimmer and lighter than the generation it replaces. The new notebooks also offer more personalization options with four new cool patterns in addition to the original eight colorful LCD back choices. With a starting price of $499, the Inspiron 1525 is available at http://www.dell.com/inspiron.
Taking self expression to the next level, the Inspiron 1525 notebook can be customized with four new optional patterns: Blossom, Chill, Commotion and Street, in addition to the original eight color options like Midnight Blue and Ruby Red. Color-coordinated optional accessories like wireless mice and external storage as well as notebook sleeves, backpacks and messenger bags allow each customer to design a unique mobility package.
The Inspiron 1525 boasts a new design that is 25 percent smaller, thinner and almost a half a pound lighter than its predecessor. Consumers on the go will appreciate all of the optional wireless features that help them stay connected, whether it's at the desk, in a room, around the house or just about anywhere.(1) The system includes several unique features that make staying connected and managing multimedia activities a breeze, including:
-- Dell MediaDirect(TM) technology, which provides one-touch instant access to music, photos and videos and select Microsoft Office program like Calendar and Contacts without turning on the notebook
-- Stylish capacitive touch multimedia buttons for slick fingertip control of entertainment content
-- Dell's Wi-Fi Catcher(TM), an easy way to locate and connect to a Wi-Fi network, or to turn off the wireless to help save battery life
-- Multiple wireless options for both short- and long-range connectivity
-- Access the Internet from almost anywhere with built-in Mobile Broadband(2), which connects via cellular networks. (Choice of AT&T, Sprint or Verizon Wireless)
-- Cut the wires and clean up the desk with built-in Wireless USB, which accesses an external hub that acts as "docking central" for any USB-connected devices or accessories like MP3 players and digital cameras
-- Transfer or sync files between the notebook and handheld devices, or connect to a printer or wireless headphones using Bluetooth(R)
Customers can further personalize the Inspiron 1525 with fun optional features like a built-in 2.0 megapixel webcam with dual digital array microphones and noise isolation headphones for video chats, ExpressCard Travel Remote for arms-length control of entertainment content, and high-resolution displays for clear, crisp viewing of HD content.
Dell's New Online Data Migration Service
Dell now offers a simple and secure way to move personal settings and data to new Dell notebooks and desktops straight from the factory with PC-to-PC Transfer.(3) Customers download an application onto their old system that "grabs" personal settings like desktop wallpaper, Internet favorites, Outlook contacts, encrypts it and then transmits it securely to the Dell factory to be loaded onto their new Dell PC. PC-to-PC Transfer can also capture data files like music, digital photos, documents and spreadsheets, presentation files and more, when customers purchase a subscription to DataSafe online backup. More information about Dell's PC- to-PC Transfer is available at http://www.dell.com/pctopctransfer.
About Dell
Dell Inc. (NASDAQ: DELL) listens to customers and delivers innovative technology and services they trust and value. Uniquely enabled by its direct business model, Dell is a leading global systems and services company and No. 34 on the Fortune 500. For more information, visit http://www.dell.com, or to communicate directly with Dell via a variety of online channels, go to http://www.dell.com/conversations. To get Dell news direct, visit http://www.dell.com/RSS.
Offers subject to change, not combinable with all other offers. Taxes, shipping, handling and other fees apply. U.S. Dell Home and Home Office new purchases only. Dell reserves the right to cancel orders arising from pricing or other errors.
(1)Where wireless access is available. Additional access charges apply in some locations.
(2)Subject to wireless provider's broadband subscription and coverage area; additional charges apply.
(3)Applies to Customers with an active Dell DataSafe Online Backup & Sharing account on their current system. To activate a Dell DataSafe Online account, customers may purchase a renewable year-subscription for $19 (10GB); $29 (20) OR $39 (30GB) in addition to the $29 one-time fee for PC to PC Transfer.