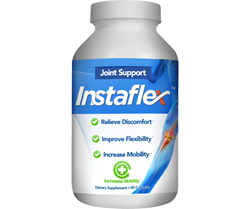 Direct Digital's Vice President of Sales, Tom Scarfato, stated "The Vitamin Shoppe is a coveted retail destination in terms of a home for Instaflex."
Charlotte, NC (PRWEB) May 02, 2013
Direct Digital, LLC, one of the nation's leading nutritional health and wellness companies, announced earlier this week that the popular supplement product, Instaflex® Joint Support, is now available at The Vitamin Shoppe retail stores. Direct Digital owns and markets such well-known brands as Beneflex™ Joint Relief, Nugenix® Free Testosterone Booster, Nugenix® Prostate Support, Lumiday® Mood Enhancement, and Luminite® Sleep Support.
The Vitamin Shoppe is a leading multi-channel specialty retailer of nutritional products carrying one of the most comprehensive assortments of vitamins, minerals and specialty supplements in the industry. The Vitamin Shoppe recently added Instaflex to its shelves as part of its overall health and joint support offering in their more than 600 store locations. The Instaflex franchise of products has proved extremely popular among individuals seeking a regimen to support a more active lifestyle and has experienced significant growth over the past three years. Initially launched in 2009, Instaflex can be found both online and in numerous retail outlets, where its sales volume has logged record-breaking numbers. Instaflex is currently already being sold online at VitaminShoppe.com, the Instaflex brand website, and other food, drug and mass-market retailers.
Instaflex Joint Support is an established top-performer in the joint category thanks to an extremely effective, proprietary, eight-ingredient formula. Boasting a carefully selected blend of ingredients, Instaflex has demonstrated that selling premium products at competitive prices will distinguish a product as a leader within the crowded health and wellness space. Direct Digital maintains its primary mission is to help improve an individual's overall lifestyle and activity level through a daily supplement regimen, and Instaflex Joint Support helps encourage and uphold this significant goal.
Direct Digital's Vice President of Sales, Tom Scarfato, stated "The Vitamin Shoppe is a coveted retail destination in terms of a home for Instaflex. The brand proved itself initially via the Vitamin Shoppe Website, as the robust ingredient profile associated with Instaflex resonated with their core consumer." Scarfato goes on to further note that "This is an important sales milestone and we're thrilled to share it with our good friend and retail partner, The Vitamin Shoppe."
Direct Digital plans to continue creating new, innovative products throughout 2013, and stands by the tenant that all brands should appeal to a wide-range of discriminating, educated consumers. Furthermore, all items in the Direct Digital family of products are unique and purpose-built for individuals with specialized health and wellness needs.
To learn more about Instaflex® Joint Support, and the additional supplements housed within the Direct Digital portfolio, please visit http://www.Instaflex.com or http://www.DirectDigitalllc.com.
About Direct Digital, LLC
Direct Digital, based in Charlotte, NC and Boston, MA, is a leader in product development, brand creation and digital marketing within the health and wellness space. The company owns the Instaflex®, Beneflex™, Nugenix®, Lumiday® and Luminite® brands. Direct Digital products are distributed throughout North America and internationally, including Canada and the Middle East. For additional information, please visit http://www.DirectDigitalllc.com.
###