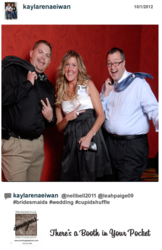 Social Media and Photography are the perfect partners to any event.
Washington, D.C. (PRWEB) October 18, 2012
Instagram Onsite Printing for your event photo marketing and event photography is now available from Professional Images Photography. Professional Images staff of photographers take the photos using pro digital cameras or any smartphone and also allows the user (event attendee) to take photos with their very own smartphone using the INSTAGRAM application. This event photo marketing service is perfect for marketing corporate products, events and services. The social media impact is the true value of this product and cannot be compared to a photo booth that just takes photos.
The concept is catching on quickly at mobile marketing events, tradeshows, and social events. Recently at a mobile marketing event for a national customer Joseph Rodriguez took time to explain how it works.
How does it work?

Custom branded photos are taken with Pro Digital cameras or any smartphone.
Photos are can be taken from a stationary location or roam. Smartphones can be used all around the event or both.
Creating a customize hash tag, (example: #anyevent) the photo is sent wirelessly to be printed.
Images can be streamlined live to client's FACEBOOK account photo album where photos are viewed immediately.
Photos taken are also streamed in real time live to a monitor setup onsite and can be moderated to control inappropriate images.
Customized branded premium 4x6 photos are created and displayed by booth and claimed free by consumers
Consumer Data Collection is taken care of by a brand ambassador who collects data when consumer claims their photos.
As the convention photography season is in full swing the need for something different to draw attendees is important to the success of the Association, Convention or Meeting Planner. Onsite Printing Photography with Social Media is a growing and important tool for business growth, brand awareness and customer engagement. Professional Images Photography is nationally known and recognize for Convention Photography and Event Photography Services. The commitment to bring new photography products and services is ongoing.
About us:
Since 1987 Professional Images Photography has been providing Conference Photography, Convention Photography, Onsite Printing Photography and Event photography services Nationwide. Based in San Antonio, TX with offices in Houston, Orlando, Washington D.C. and coming soon to Las Vegas, NV.