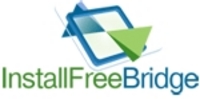 Without using InstallFree we would not have been able to complete our migration project as planned.
Stamford, CT (PRWEB) April 7, 2010
InstallFree, Inc., a leading developer of desktop application virtualization and management solutions, today announced the general availability of Version 2.0 of its flagship product, the InstallFree Bridge. The new release helps customers speed migrations to Windows 7 by using InstallFree's unique application virtualization technology to eliminate desktop and web application compatibility issues, including the ability to run older versions of Microsoft Internet Explorer on Windows 7. The InstallFree Bridge is immediately available for free evaluation, either by downloading the software or by using InstallFree's new online Hands-On Lab, which enables customers to test the product "in the cloud". Customers can register for the evaluation on the InstallFree Web Site. InstallFree is also announcing a limited-time promotional product packaging and pricing to help customers get a jump-start on their Windows 7 migration projects.
"InstallFree is meeting our customers' urgent need to ease the pain of migrating and managing their critical desktop applications," said Yori Gabay, CEO at InstallFree. "With many recent customer examples, it is clear that application compatibility is a key issue preventing customers from moving to Windows 7. There is tremendous pressure on IT to repackage, recertify and even redesign their desktop and web applications for the new OS, resulting in very significant project delays and cost overruns. InstallFree technology was specifically designed to eliminate these issues and get IT back on track with minimum disruptions to the business, all while putting in place a stronger foundation for managing the desktop environment moving forward."
InstallFree enables IT organizations to get out of the "application repackaging business" by creating isolated, modular and portable virtual applications that can run on any version of Windows and be updated on the fly. InstallFree Virtual Applications seamlessly integrate into the end-user's environment and fully communicate with the OS and other applications without making any changes to the underlying OS file system or registry. They enable full end-user productivity in locked-down PC environments and create a fully portable end-user environment that can be seamlessly migrated between computers and operating systems.
"InstallFree made it possible for us to migrate our environment to Windows 7", said Dennis Thomas, Information Systems Director, Georgia Northwest Technical College. "We had many critical desktop and web-based applications that were not compatible with Windows 7. InstallFree enabled us to virtualize our Windows XP applications and then deploy them without any changes to Windows 7. For our web applications, InstallFree made it possible for us to run them using virtualized versions of Internet Explorer 6 and 7 on Windows 7. Without using InstallFree we would not have been able to complete our migration project as planned."
InstallFree | Designed for Users. Built for IT
InstallFree provides Desktop Application Virtualization and Management solutions that reduce IT costs, simplify application delivery and increase reliability and end-user productivity. InstallFree stands alone in offering a virtualization approach that creates modular desktop elements that can be independently packaged, managed, configured and updated while leveraging the customer's existing IT infrastructure.
InstallFree has technology alliance partnerships with BigFix, BMC Software and Red Hat, and solution partners serving the education, healthcare, financial services and the public sector. For more information, visit http://www.installfree.com or call (203) 276-1460.
Follow us at Twitter See InstallFree Demo on YouTube Sign Up for Webcast
All product and company names herein may be trademarks of their registered owners.
###