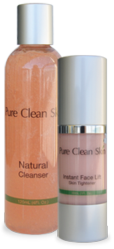 A new instant face lift wrinkle cream is available from natural health and wellness company, True Healthy Products.
(PRWEB) March 23, 2012
A new instant wrinkle remover cream is now available from natural products company, True Healthy Products. The "Pure Clean Skin - Instant Face Lift" is a topical cream that within seconds acts to lift and tighten skin for a firmer, younger look that lasts for up to 8 hours.
The company is offering an introductory buy one get one free special:
http://www.purecleanskin.com/custom/instant-face-lift-by-pure-clean-skin/
According to the manufacturer, the serum "increases firmness and elasticity by reducing the destructive processes that cause elastin and collagen in aging skin to break down. Stimulates and increases the production of new elastin and collagen while strengthening all facial skin layers resulting in a natural face lift that will make your skin's appearance smoother, firmer and more youthful."
True Healthy Products lists the following benefits of the Pure Clean Skin Instant Face Lift:
Lifts and tightens skin instantly
Immediate results last for 6 to 8 hours
An overall more youthful "lifted" appearance
Reduces wrinkles and fine lines
In clinical tests, 100% of people tested showed a scientifically measurable lift immediately, with even greater tensile strength after only 5 minutes. The effect will become even more visible with consistent and continual use.
For more details about the science behind the new Pure Clean Skin care line from True Healthy Products, visit http://www.purecleanskin.com/.
True Healthy Products, LLC
2460 N. Courtenay Pkway, Ste. #210
Merritt Island, FL 32923
888-400-2920