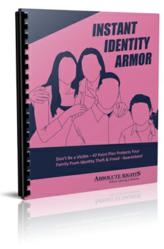 A person's entire life can be destroyed by the malicious acts of those who mean harm.
Austin, TX (PRWEB) April 01, 2013
Identity theft protection is no laughing matter, said AbsoluteRights.com's newest article. A person's entire life can be destroyed by the malicious acts of those who mean harm. Instant Identity Armor is the 47 point plan from Absolute Rights that is protecting people and their loved ones from identity theft and fraud with guaranteed advice and action, said the article.
Thanks to Absolute Rights and their newest Special Report, people will have a source of information that can help them avoid becoming a victim of the latest forms of sophisticated identity crimes.
Finances aren't the only thing affected, because the article said identity theft can cause problems across multiple aspects of someone's life. Taxes, home ownership, careers, children, and more can be compromised, turning a normal life into a living hell. Absolute Rights wants people to be aware of the dangers they face, and take measures that will keep them safe from prying eyes and vulnerabilities.
Instant Identity Armor is filled with identity management tips and raw information that will help anyone gain a better perspective on the steps they can take to thief-proof their lives. The article said that if someone was already hit with identity theft, the report will help advise them what to do and what to say to clear their name as quickly and effectively as possible.
The strategies in Instant Identity Armor are from top identity management experts, who advise only proven ways to avoid expensive credit repair services. The plan and guidelines to follow are easy to understand and even easier to implement, according to the article. Absolute Rights is certain this is the kind of information people need to know, but agrees there is a lack of quality from other sources.
Absolute Rights is the fastest growing news and opinion site on the web. It is providing content and insight on the hottest topics circulating through the web and beyond. For more information on the site, go to AbsoluteRights.com.
Be confident that the information gathered comes from experts by accessing the Instant Identity Armor Special Report, said the article; the time to protect oneself has arrived, and these measures need to be taken before it is too late. Be certain loved ones are kept safe by reading and implementing the suggestions in Instant Identity Armor.