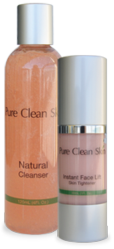 Natural health and beauty company, True Healthy Products is now offering an introductory offer for the newly released instant wrinkle remover, the Instant Face Lift, for a limited time.
(PRWEB) April 27, 2012
Natural health and beauty products provider, True Healthy Products just released a new skin care line called "Pure Clean Skin" which features an instant wrinkle remover product called "Instant Face Lift." The Instant Face Lift is being offered at a discounted price for a limited time and comes with a free Natural Facial Cleanser from the Pure Clean Skin line.
The company has live videos of the results of the Instant Wrinkle Remover on their website. Watch the videos at http://www.purecleanskin.com/instant-face-lift-skin-tightener/
The Instant Face Lift fast acting skin tightener provides a temporary face lift effect for a few hours and provides a long term benefit of increased collagen and elastin. According to the company, the effects of the product last for "up to eight hours" and can be used under make up.
The instant wrinkle remover works within minutes and dramatically tightens loose skin around the eyes, mouth, neck, and also provides a refining effect for other areas of the face.
According to the manufacturer, "This serum's unique biomolecular composition increases firmness and elasticity by reducing the destructive processes that cause elastin and collagen in aging skin to break down. What's more, this product actually stimulates and increases the production of new elastin and collagen while strengthening all facial skin layers resulting in a natural face lift that will make your skin's appearance smoother, firmer and more youthful."
True Healthy Products recently released the new Pure Clean Skin skincare line in early 2012. The product line contains the Instant Face Lift instant wrinkle remover, the Skin Stem Cell Serum, the Vitamin C+ Serum 12%, the AHA Facial Cleanser, the Natural Facial Cleanser, and the Amber Honey Exfoliating Cleanser. The company is offering a discount on the Instant Face Lift with a Free Natural Cleanser and will only be available for a short time as a special introductory offer for the product line.
To learn more about Pure Clean Skin and the revolutionary instant wrinkle remover, the Instant Face Lift, visit the company's website at http://www.purecleanskin.com.
True Healthy Products, LLC
2460 N. Courtenay Pkway, Ste. 210
Merritt Island, FL 32953
888-400-2920