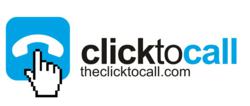 With the release of TheClickToCall platform websites can now receive calls from anywhere in the world through a phone to phone conversation with their website visitors. With the installation of a simple "copy and paste"
Miami, FL (Vocus/PRWEB) March 29, 2011
TheClickToCall has released a new ClickToCall solution for websites. Until now, websites were limited to interact with the visitors through chats and complicated audio software, but so far there weren't any reliable ways to communicate through the phone with a website visitor until now. With TheClickToCall and a few mouse clicks and keystrokes a website visitor from anywhere in the world can be in contact with the website being browsed through a phone to phone conversation.
To learn more about TheClickToCall solution or to register visit http://theclicktocall.com.
TheClickToCall, a division of The Call Machine LLC, started in 2009 with the development of TheClickToCall.com platform. After 2 years of development the platform was released. TheClickToCall allows the installation of a simple "copy and paste" HTML code in any website (or anywhere the HTML code can be pasted) which provides website visitors with a direct line to the website being browsed at no cost to the caller even when the calls are international. Find out how it works by clicking here.
TheClickToCall was created to enhance the reach of a Website, to exploit its full potential. With this enhanced communication now, services, retail websites, e-commerce businesses, customer support and much more can extend their reach beyond the internet and interact directly with the visitor the moment they are browsing their websites.
It works by connecting one or many phone numbers to an account in TheClickToCall which in tern provides a HTML code to be pasted anywhere on the web. When clicked by the web visitor, that link redirects them to a window from which the web visitor is prompt to enter his/her phone number and then the system calls and connects them to the number stored in TheClickToCall account. The Basic service includes free features like authorized countries, business hours, anti-spam and customizable pop-up window. TheClickToCall also includes additional purchasable features like voicemail, follow me and call recording. Each feature is intended to fulfill any possible needs each user may have. Click here for examples on market benefits.
TheClickToCall installation on a website only requires the provided HTML code to be pasted into the website or anywhere on the web, and it requires no additional software or downloads to make a call using the service. TheClickToCall icon can be embedded on a variety of images provided within the system or the code can be embedded on any image or text the user chooses. This provides a much needed service flexibility, as each user is not limited in the use of each link; it can be simultaneously pasted in different places at the same time and embedded on different images, text links or hyperlinks. Want to try it or need more info? Call by clicking here.
To learn more about the service, contact Max Doldan @ 1800-984-1728 ext 2007. Or visit TheClickToCall.com.
# # #