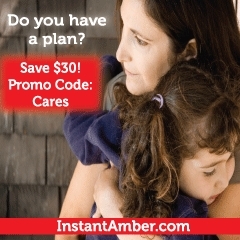 Nashville, TN (PRWEB) September 28, 2009
InstantAmber is proud to announce that it has changed its pricing structure to ensure all families can afford its unique, life-saving service. InstantAmber has also added numerous benefits for its members to ensure that InstantAmber members have all of the resources necessary to ensure their families' safety!
InstantAmber members will receive the benefits listed below all for a low annual membership fee of $30.00; plus $10.00 per registered child. Because InstantAmber is dedicated to helping families protect their children, InstantAmber will waive the first-year annual $30.00 membership fee through October 31, 2009.
InstantAmber's Membership Benefits:

Instant law enforcement access 24/7/365
Ability to upload court orders, divorce paperwork, and fingerprint cards
Access to the Child Safety Store-which has partner offers to meet other child safety needs
If a member's child goes missing, InstantAmber will notify its partners, proactively post emergency information on its website and broadcast alerts and updates on its social networks
Comprehensive child safety resources
Unlimited data updates, access and storage
Groundbreaking system with state of-the-art security
The most comprehensive and reliable safety service available
Ability to download and print flyers
Quarterly update reminders
Monthly E-Newsletter with child safety tips
InstantAmber is excited to offer its members numerous benefits and exceptional service for only $10 for each child registered through October 31, 2009 (please use the promo code: Cares). After that, a low annual membership fee and per child fee will apply to ensure that your family has a plan for a missing child emergency. Visit InstantAmber to take advantage of this special offer, please use the promo code, Cares, to save $30.
InstantAmber is a subscription-based service that assists families and law enforcement agencies in the recovery of missing children. It has partnered with organizations and businesses that share the same common goal of protecting children and ensuring child safety. Some of InstantAmber's partners include National Organization for Youth Safety, KinderVision, My Gym, Stroller Strides, The National Vigil for Hope, and many others. To see offers from some of InstantAmber's partners, please visit their Child Safety Store.
About InstantAmber:
InstantAmber is a web-based data gathering, storage and delivery service that enables law enforcement to retrieve critical information and photos in the event of a missing child emergency. Born in 2008, InstantAmber, a unique online service, is creating a community through targeted business and philanthropic partnerships for the safety and protection of children throughout the United States.
###