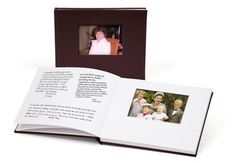 Now that I have a family of my own, I wish these had been around after my gran had died. I'd love my boys to be able to read people's memories of her, alongside special photographs
Seaford, East Sussex, UK (PRWEB) March 6, 2008
Instant Forever announces the new addition to their photo guest book product line - the Condolence or Memorial Guest Book, a combination photo album and guest book that can be used at remembrance ceremonies to celebrate and preserve the memories of a loved one. The album is an ideal alternative to a traditional guestbook.
"Planning a funeral is never easy - and coping with the emotions surrounding this event can be very difficult," states Helen Rankin, Founder of Instant Forever. "After all the arrangements have been made and the services are over, the family is often left with only a vague memory of the friends and family members who gathered. The Adesso Album provides them with a wonderful memento to quietly relive poignant memories and words."
What makes the Adesso Album Memorial Guest Book so unique is that it creates a classic and elegant memory keepsake to treasure for generations.
How it Works:

A family member or friend fills the Adesso Album with cherished photos
The album is available at the memorial and other remembrance services
Guests view the photos and share personal sentiments in writing next to the images
The Adesso Album becomes a cherished memory book for the family
The Condolence Memorial Guest Book Albums are 8" x 10" and hold fifteen 4" x 6" photos in landscape orientation with ample area for writing on the opposing page. Available in a black bonded leather cover
"Now that I have a family of my own, I wish these had been around after my gran had died. I'd love my boys to be able to read people's memories of her, alongside special photographs," states Instant Forever founder Helen Rankin.
For more information on the new Memorial Guest Book offering at Instant Forever:
Visit: Memorial Guest Books
Contact: Helen Rankin
Call: 0845 094 1311
About Instant Forever:
Instant Forever was founded in September 2005 and is headquartered in East Sussex, UK. The Company is the exclusive distributor of Adesso Albums, the world's first line of "instant photo guest books®" in the UK. Instant Forever also supplies packages for weddings, christenings, leaving dos, parties and corporate events. Adesso Albums and the Adesso Albums logo are registered trademarks of Adesso Albums, Inc.
###