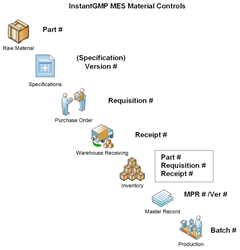 We are pleased with the program. - Shaun
Cary, NC (PRWEB) November 14, 2013
When Genesis Herb Company, a maker of custom nutritional and health products, decided to improve their documentation processes and to make the transition to electronic batch records, they selected InstantGMP™ MES as their manufacturing execution system. Genesis Herb makes a wide variety of dietary supplement products starting with natural herbs and then manufacturers them with their own proprietary formulas. They chose to use InstantGMP™ MES because it makes their manufacturing of a wide variety of formulas easy to track and easy to keep in control.
InstantGMP™ MES is a web-based Part 11 compliant manufacturing execution system that streamlines the entire process of manufacturing including material management, specification control, inventory control and it provides electronic batch records. It simplifies the documentation and quality processes to reduce production times and to keep all of the manufacturing documentation organized. It has quality assurance procedures built in to prevent errors and to maximize quality, and to assure GMP compliance. InstantGMP™ MES makes it easy to manufacture products regulated by the FDA.
About InstantGMP
InstantGMP™ develops web-based software for manufacturing products that must comply with current Good Manufacturing Practices (cGMP) and FDA requirements. Their software systems were developed to meet the standards of cGMP, GAMP 5 and 21 CFR Part 11. InstantGMP™ MES is a manufacturing execution system and InstantGMP-Lite™ EBR is an electronic batch record system. These software systems were designed to include the quality and cGMP checks necessary to make manufacturing cGMP products easy.