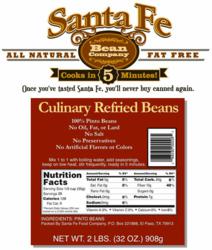 It's a great addition to our line," said Grant Bassett, Santa Fe Bean Company president. "Like all our instant refried beans, the Culinary Refried Beans have no metallic "can" taste
Dallas, TX (PRWEB) May 23, 2013
Santa Fe Bean Company, a leading American brand of instant refried beans, announced today their new line of all-natural Culinary Refried Beans. Created to meet the needs of professional chefs and home cooks who prefer to use their own proprietary seasonings, Santa Fe Culinary Refried Beans are sold in a convenient, resealable 2-lb package. They consist of one simple ingredient—pinto beans—and so are naturally free of GMO's, oil, salt, artificial flavors and preservatives, and are 100% vegetarian.
"It's a great addition to our line," said Grant Bassett, Santa Fe Bean Company president. "Like all our instant refried beans, the Culinary Refried Beans have no metallic "can" taste, but on top of that, these are all natural, and we've left all of the seasoning to the consumer, which allows endless versatility. Recent research we saw showed these were especially popular with a specific demographic for instant refried beans: savvy, busy parents. These are moms and dads who value convenience but demand wholesome ingredients—they don't want to sacrifice flavor or quality for their active, healthy families. Our Culinary Refried Beans are the perfect solution for them."
Easily prepared by simply adding to boiling water, simmering for five minutes, and seasoning to taste, Santa Fe Culinary Refried Beans are free of cholesterol, and are a good source of protein and fiber.
About Santa Fe Bean Company:
Santa Fe Bean Company was founded in El Paso, Texas in 2005. A leading brand of instant refried beans in the United States, Santa Fe Beans are available in six varieties: Vegetarian, Black, and Southwestern refried beans, sold in individual 7.25-ounce packages; Culinary Refried beans, sold in a 32-ounce package; and whole Pinto Beans and Borracho® Beans, sold in 8-ounce and 9-ounce packages, respectively. Santa Fe Bean Company instant beans are available at natural and conventional grocery stores across the United States, and online at Amazon.com. For more information, visit http://www.santafebean.com.
###