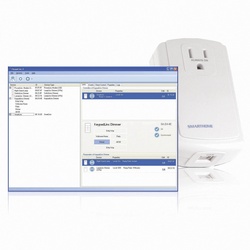 We are excited to release HouseLinc 2, the successor to HouseLinc 1
IRVINE, Calif. (PRWEB) October 7, 2008
HouseLinc 2 allows users to manage links, build scenes, create timers and establish event triggers for INSTEON and X10 devices alike, all from the convenience of a PC. With this latest product release, users have the freedom to continue working from their desktop as devices across the network are being synchronized in the background. Additionally, enhanced feature sets for new and existing INSTEON products have been added for greater control. Rounding out the new look and feel, HouseLinc 2 features an intuitive link status feedback along with user-friendly buttons and menus that are easy on the eyes. "We are excited to release HouseLinc 2, the successor to HouseLinc 1," says Laurie Maroni VP Marketing at SmartLabs. "Built on a more stable and flexible platform, users can enjoy better performance today and even more features to come. Improvements include background link management and new PC-initiated INSTEON scenes."
INSTEON home automation technology provides customized control and communication of lighting and appliances throughout the interior and exterior of a home. INSTEON products let you create a network of controlled devices and scenes that make life convenient, fun and energy efficient.
About INSTEON
SmartLabs' INSTEON home control networking technology uses a simple, low-cost combination of wireless and power line communications. With over 200 INSTEON-compatible products, it is easy to link together home systems such as lighting, security, HVAC, A/V, appliances and sensors, allowing them to be controlled or monitored from anywhere in the world.
For more information: http://www.insteon.net